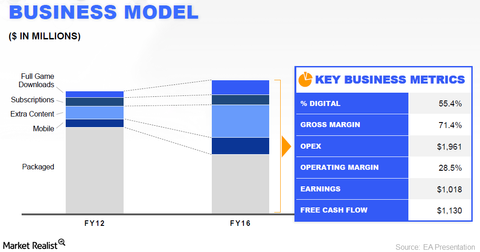 Why Has the Profit Margin for Electronic Arts Improved?
By Adam Rogers

Updated
Shift in business model
In fiscal 2012, the Digital Business segment accounted for 29.3% of total revenues for Electronics Arts (EA). The gross margin stood at 63.1% and the operating margin was 9.5%. Operating expenses in fiscal 2012 were ~$2.3 billion with earnings of $284 million and free cash flow of $105 million.
However, these business metrics improved in fiscal 2016 as the digital business accounted for 55.4% of revenues. The gross margin improved to 71.4% whereas the operating margin also rose to 28.5%. Operating expenses in fiscal 2016 were ~$2.0 billion with earnings of ~$1.0 billion and free cash flow of ~$1.1 billion. The growth in EA's digital business was driven by mobile, extra content, and full game downloads.
Article continues below advertisement
Microtransactions becoming increasingly important
Digital revenues have grown rapidly for Electronic Arts (EA). In fiscal 4Q16, digital revenues rose by 18.3% YoY (year-over-year) to $712 million from $602 million in 4Q15. Accounting for over $200 million in revenues, microtransactions present users with the opportunity to buy items that enhance their gameplay.
EA's strategy is a shift from a premium-price model on mobile devices to one that involves in-app and free-to-play purchases. The company's strategic shift toward digital and mobile, coupled with cost controls, has enabled the company to outperform the Market's expectations.
EA accounts for 4.5% of the iShares North American Tech Software ETF (IGV). The other top holdings of this ETF include Adobe (ADBE) (8.9%), Salesforce (CRM) (8.6%), and Oracle (ORCL) (8.4%).