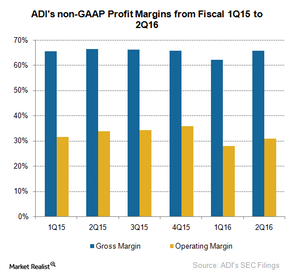 What's the Link between ADI's and Apple's Profit Margins? 
By Puja Tayal

Jun. 16 2016, Updated 9:05 a.m. ET
ADI's financial health
In the previous part of this series, we saw that Analog Devices (ADI) is financially well placed to undertake future acquisitions.
When analyzing growth prospects, one important factor to consider is profits, as they show a company's operational efficiency and its ability to realize acquisition synergies.
Article continues below advertisement
Gross margin
Over the past two years (fiscal 2014 and 2015), ADI kept its non-GAAP (generally accepted accounting principles) gross margin above 65%. However, this trend broke in fiscal 1Q16, when the company reported a 62.2% gross margin as its key customer Apple (AAPL) scaled back production of the iPhone in December 2015 and the sales from the industrial segment were seasonally low.
The company's gross margin depends on revenue and inventory. Higher revenue and lower inventory increase the company's factory utilization, reducing its cost of production. In fiscal 2Q16, the company's gross margin stood at 65.8% despite production cuts at Apple. The margin improved as the company reduced its inventory level and increased its factory utilization to ~70%.
Rivals Texas Instruments (TXN) and ON Semiconductor (ON) improved their gross margins by bringing structural changes on the manufacturing front.
For fiscal 3Q16, ADI expects to keep its gross margin above 65% even though it expects to reduce factory utilization to the 60% range. With this, the company aims to maintain its inventory levels.
Operating margin
ADI managed to reduce its non-GAAP operating expenses from 34.2% of revenue in fiscal 1Q15 to 29.8% in fiscal 4Q15. However, its ratio rose to 34.4% in fiscal 1Q16 and to 35% in fiscal 2Q16 as its revenue fell faster than its expenses.
Hence, the company's non-GAAP operating margin fell from 35.9% in fiscal 4Q15 to 27.8% and 30.8% in fiscals 1Q16 and 2Q16, respectively. For fiscal 3Q16, the company expects its operating expenses to rise further.
EPS
ADI's non-GAAP EPS (earnings per share) rose from $0.63 in fiscal 1Q15 to $1.03 in fiscal 4Q15, then they almost halved to $0.56 in fiscal 1Q16. For fiscal 3Q16, the company expects its EPS to be between $0.66 and $0.74, higher than the $0.64 it reported in fiscal 2Q16.
The above figures show that ADI's profit margins were hit by Apple's production cut. Next, we'll see how ADI's investors reacted to Apple's production cuts.
The iShares Core S&P 500 ETF (IVV) replicates the S&P 500 Index. It has 8.7% holdings in semiconductor stocks, including 0.10% in ADI, 0.34% in TXN, and 3.0% in AAPL.