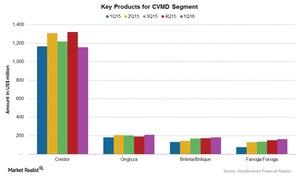 What's AstraZeneca's Largest Revenue Contributor?
By Mike Benson

Updated
Cardiovascular and metabolic disease segment
AstraZeneca's (AZN) cardiovascular and metabolic disease (or CVMD) segment is the company's largest revenue contributor. It contributed nearly 37.5% of total revenues in 1Q16 on the back of strong performances by Onglyza, Brilinta, Bydureon, Farxiga, Byetta, Crestor, and Seloken. This was partially offset by lower sales of Alakand and other products.
On February 11, 2016, MedImmune, the global biologics R&D (research and development) arm of AstraZeneca, entered into a collaboration with the University of Michigan and Eli Lilly (LLY). The purpose was to identify new therapeutic targets for the treatment of patients with chronic kidney disease.
Article continues below advertisement
Brilinta/Brilique
Brilinta/Brilique, a growth platform product, is used to prevent blood clots in heart and blood vessels. The FDA (U.S. Food and Drug Administration) approved a new 60 mg (milligram) dose for Brilinta in the second half of 2015. The drug's 1Q16 revenues increased by 46% at constant exchange rates to $181 million. It had an increase of 52% in US sales at $70 million, a ~19% increase in European sales, and a ~109% increase in emerging market sales.
Onglyza
Onglyza, a diabetes product to control blood sugar levels, reported a 20% increase in revenues at constant exchange rates. The 1Q16 revenues were mainly driven by a 27% increase in sales in US markets due to a higher net price and a 20% increase in sales in emerging markets. This was substantially offset by a 6% decline in European markets due to lower demand for DPP-4 (dipeptidyl peptidase-4) class drugs.
Article continues below advertisement
Crestor
Crestor is used to reduce cholesterol and triglycerides in the blood. It contributed ~18.9% of AstraZeneca's total 1Q16 revenues. At constant exchange rates, Crestor revenues increased by 2% at $1.2 billion in 1Q16. In US markets, revenues increased by 4% to $636 million following a higher net price, which was offset by the destocking impact. European markets reported a 7% decline in sales at $212 million due to competition from generic statins. Sales in Japan and China increased 2% and 24%, respectively, in 1Q16.
Crestor was expected to lose its exclusivity in May 2016 in US markets. The United States presently contributes more than 50% of total sales for this drug. This is expected to have a substantial impact on future revenues for this segment.
Competitors of Crestor are Lipitor from Pfizer (PFE), Zocor from Merck & Co. (MRK), Advicor from Abbott Laboratories (ABT), and Pravachol from Bristol-Myers Squibb (BMY).
Other CVMD products
Other products in the CVMD segment include Farxiga/Forxiga, Bydureon, Byetta, and Seloken. Revenues in 1Q16 for Farxiga/Forxiga increased 128% due to higher demand in all markets, including the United States, Europe, and emerging markets. Bydureon revenues increased 11%, while Byetta sales decreased 30% during the quarter. The company is making constant efforts to expand its presence in diabetes products in Europe with the help of Bydureon.
Investors can consider the iShares Global Healthcare (IXJ), which holds ~2.2% of its total assets in AstraZeneca.
Next, let's see why AstraZeneca's second-largest segment lost market share in 1Q16.