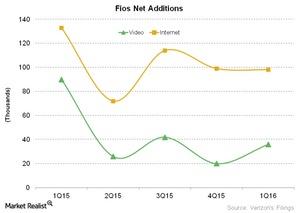 What Verizon Expects for Fios Customer Acquisitions in 2Q16
By Ray Sheffer

Jun. 13 2016, Updated 12:42 p.m. ET
Verizon on Fios Internet and video customer acquisitions
In the previous part of the series, we learned about how Verizon's (VZ) employee strike could affect its 2Q16 earnings. This strike started on April 13 and ended on June 1, 2016. As per Verizon, the strike has significantly impacted the telecom's Internet and video customer acquisitions for the quarter. According to Fran Shammo, the telecom company's CFO and executive vice president, "As far as adds on Wireline go, as I said we spent most of our time on repairs and maintenance. So the actual net adds of Wireline will be negative for the quarter."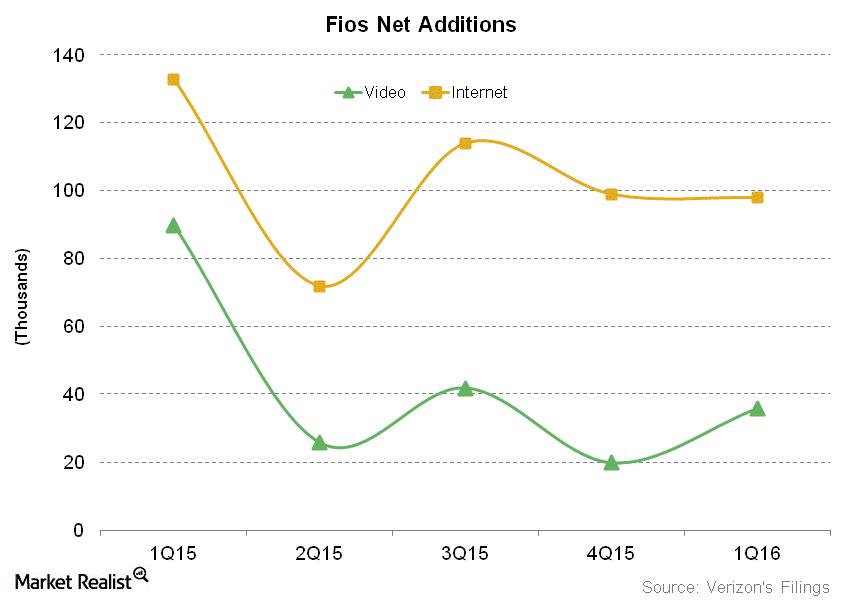 Article continues below advertisement
As per Shammo, "Now obviously our employees are back to work. We're doing installations here in the month of June. So I don't actually know the exact number that we'll end in the quarter because now we're in catch-up mode because we did have a pipeline build during the strike." He added, "It's a matter of how much we can get to that pipeline. But I would expect TV and broadband to be negative for the quarter." He spoke about this at the recent Bank of America Merrill Lynch Global Telecom & Media Conference.
Customer acquisitions for Verizon Fios
As the above bar chart shows, on a net basis, the customer acquisitions for Verizon Fios Internet and video components have come down significantly in 1Q16 from the levels they were at in 1Q15.
During 1Q16, on a net basis, the company had Fios customer additions of ~98,000 and ~36,000 in Internet and video services, respectively. The company had net additions of ~133,000 and ~90,000, respectively, in 1Q15.
Fios is a fiber-based Internet, voice, and video service similar to AT&T (T) GigaPower as well as some offerings from cable players like Comcast (CMCSA) (CMCSK).
For diversified exposure to Verizon, you can consider investing in the SPDR Dow Jones Industrial Average ETF (DIA). The telecom company made up ~2% of the ETF at the end of May 2016.