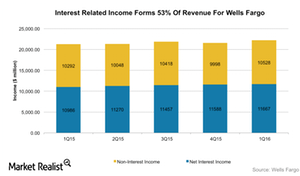 What Is Wells Fargo's Sensitivity to Interest Rates?
By Rebecca Keats

Updated
The lower the interest rates, the lower the margins
Interest rates have been at record lows since the financial crisis of 2008. Low interest rates lead to lower net interest income for banks.
Banks typically "lend long and borrow short." This means that the maturity of a bank's loan portfolio typically exceeds the average maturity of its deposits.
So, when interest rates begin to decline, funding costs fall faster than net interest income, leading to higher margins. However, net interest margins fall when interest rates remain lower for a longer time and loans are repaid or renewed.
As the yield curve steepens, these margins grow, thereby improving the profitability for banks.
Article continues below advertisement
Rates
Banks with more commercial loans, which often have floating rates that rise with the Federal Reserve's rate, will profit most from higher interest rates. Rates on mortgages, however, are often fixed for many years.
Banks with high interest-related income such as Wells Fargo (WFC), Bank of America (BAC), JPMorgan Chase (JPM), and Citigroup (C) have been struggling with compressed margins and are eagerly waiting for a rate hike. Since the financial crisis, the Fed has kept its funds rate at near-zero levels.
WFC's interest rate exposure
Net interest income makes up 53% of Wells Fargo's total income. Notably, Wells Fargo has the largest loan portfolio in the financial sector (XLF) (KBE). In 1Q16, Wells Fargo had a loan portfolio worth $947 billion.
By comparison, Bank of America (BAC) had a loan portfolio of $901 billion, while JPMorgan Chase (JPM) and Citigroup (C) had loan portfolios of $847 billion and $619 billion, respectively.
Wells Fargo's net interest margin would rise by 5–15 basis points if the yield curve shifted upward by 100 basis points. For more information, please read Bank of America and Wells Fargo's Interest Rate Sensitivity.