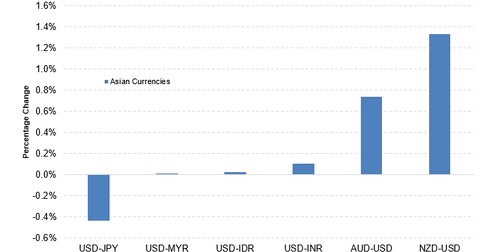 US Dollar Index Rises with Growing Brexit Sentiment
By David Meyer

Updated
US Dollar Index rises
The US Dollar Index (UUP), which measures the strength of the dollar against other major currencies, rose on May 31, 2016, after the latest Brexit polls indicated that the percentage of people wanting to leave the European Union has risen. This triggered a massive sell-off in the pound, which is part of the US Dollar Index's currency basket. The US Dollar Index rose by more than 0.29%. This factor was partially offset by gains in Oceania currencies against the US dollar.
Article continues below advertisement
Asian currencies fall
The major Asian (AAXJ) currencies had a mixed performance on May 31, 2016, as the Oceania currencies and the yen strengthened against the dollar, while the Indian and Indonesian currencies were flat. The US dollar–Japanese yen currency pair, which is inversely related to the yen, fell by 0.4% on May 31. The Indian rupee fell slightly by 0.1%.
The Australian dollar (FXA) and the New Zealand dollar traded on a stronger note against the US dollar due to strong housing data from both countries. They rose by 0.7% and 1.3%, respectively, making them the best-performing currencies for the day.
European currencies
European currencies (FEZ), which form a major part of the US Dollar Index, had a mixed performance on May 31, 2016.
The pound–US dollar currency pair posted a loss of 1.1%, as the latest Brexit polls suggested more voters are inclined to leave the European Union. According to ORB, 51% of voters prefer to leave the European Union, while 46% prefer to stay. The euro (EUO)–US dollar pair fell slightly by 0.11%. The Russian ruble fell by 1.4%.
In the next part of this series, we'll discuss consumer spending and the possibility of a US interest rate hike.