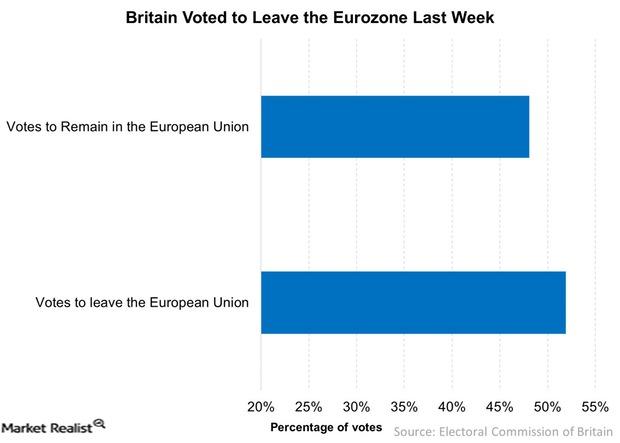 Brexit Impact: UK Decides to Leave European Union
By Richard Turnill

Jun. 27 2016, Updated 3:12 p.m. ET
The UK's momentous decision to leave the European Union has both short- and long-term implications for investors around the world. BlackRock Chief Investment Strategist Richard Turnill explains.
The UK's 52% to 48% vote to break with the European Union (or EU) has lasting consequences for the UK, Europe and the world at large. With UK Prime Minister David Cameron set to leave his post by October, we believe other European leaders will be focused on fending off populist movements throughout the continent, spurring further political and economic uncertainty. We see five key takeaways from this historic decision.
Article continues below advertisement
Market Realist – The United Kingdom decides to leave the European Union
A referendum on June 23 decided whether the United Kingdom should leave or remain in the European Union. 51.9% of voters decided the United Kingdom (EWU) would leave.
For the United Kingdom to leave the EU (EZU), it will have to invoke an agreement, Article 50 of the Lisbon Treaty, which will initiate the formal legal process of withdrawing from the EU. It also gives the UK two years to negotiate its withdrawal. EU laws still stand in the UK until its membership ceases.
The EU is an economic and political partnership involving 28 European countries (IEV). It began after World War II in order to foster economic cooperation so that countries that trade together could avoid war with each other.
The EU is now effectively a single market, allowing goods, capital, and people to move around as if the member nations were one country. So there will be major consequences of leaving the EU. The Brexit might cause the Fed to delay hiking rates, especially if the effects on global markets (ACWX) are drastic. We'll go over the implications of the Brexit in this series.