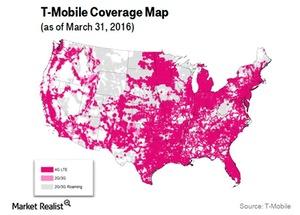 Why T-Mobile's 4G LTE Coverage Continues to Grow
By Ray Sheffer

Jul. 5 2016, Updated 12:07 p.m. ET
A factor that may positively affect T-Mobile's robust customer growth
In the previous parts of this series, we saw some expectations as well as prior performances for T-Mobile (TMUS) in terms of customer acquisitions in a saturated US wireless space. As we've seen, T-Mobile is the third-largest wireless player in the United States. Verizon (VZ) and AT&T (T) are the top two players in this space. The fourth-largest US wireless company is Sprint (S).
One of the factors that should positively affect T-Mobile's robust customer growth is its expanding 4G (fourth-generation) LTE (Long-Term Evolution) network coverage.
Article continues below advertisement
T-Mobile's expanding 4G LTE coverage
According to a T-Mobile press release on June 27, 2016, "Just last year, we added more than 1 million square miles of LTE coverage, and T-Mobile now covers 309 million Americans with LTE. We've launched Extended Range LTE – which carries signals 2x farther from the tower and works 4x in buildings better than before – in over 340 metro areas."
T-Mobile continued to expand its 4G LTE coverage in 1Q16. During the earnings call on April 26, 2016, the company said its 4G LTE network spanned 308 million people. That figure was 275 million at the end of 1Q15, according to the company.
It's worth noting that the carrier anticipates its 4G LTE network to span more than 310 million people by the end of 2016. Neville Ray, the company's CTO (chief technology officer), confirmed this in the company's 1Q16 conference call.
Instead of directly investing in T-Mobile stock, you can consider a diversified exposure to the telecom company by investing in the PowerShares QQQ ETF (QQQ). QQQ held ~0.7% in T-Mobile at the end of May 2016.