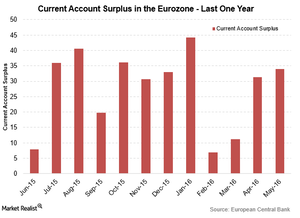 Strong Rise in Eurozone Current Account Surplus
By David Meyer

Updated
Current account surplus in the Eurozone
The current account surplus in the Eurozone (EZU) (FEZ) increased to 34 billion euros on June 17 against 31.3 billion euros in April. The surplus was bolstered by an increase in primary income and a surplus in the flow of goods and services.
However, while secondary income recorded a deficit. The current account surplus for Italy (EWI) reached 4.6 billion euros in May versus 2.2 billion euros in April.
Article continues below advertisement
Construction output rises in Turkey
Construction output in Turkey (TUR) increased by 5.2% on June 17 in 1Q16 from a 3.8% growth in 4Q15. The increase was recorded at 2.1% on a quarterly basis. The rise was helped by a 6.1% increase in building and a 2.1% uptick in civil engineering.
Polish industrial production, retail sales rise
On June 17, industrial production in Poland (IEV) increased by 3.5% in May on an annual basis, compared with a 6.0% rise in April and expectations of a 4.6% rise. Retail sales on an annual basis rose by 2.2% in May against a 3.2% increase in April and a forecast of 3.0% growth.
On the other hand, producer prices in Poland contracted by 0.7% in May on an annual basis against a 1.2% fall in April, slightly above estimated forecasts of a 0.9% fall.