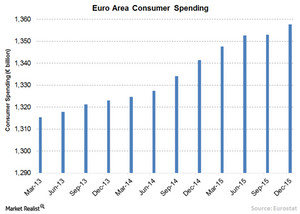 Strong Consumer Spending Is Supporting Eurozone Growth
By Richard Turnill

Nov. 20 2020, Updated 5:23 p.m. ET
We see consumption supporting eurozone GDP growth in the short term, a view strengthened by a recent BlackRock Investment Institute research deep dive into prospects for Europe.
Labor markets are improving in countries such as Italy, where reforms appear to be showing results. Many leading economic indicators point to stronger consumption. Also, a major headwind to growth is fading as European fiscal policy shifts from austerity to expansion. Another support: The European Central Bank (ECB) is likely to expand its asset purchases if warranted, rather than lower already-negative rates.
Article continues below advertisement
Market Realist – Higher consumer spending and ECB stimulus likely to propel the economy
As discussed in the previous article, consumer spending is supporting strong economic growth in the Eurozone (IEV) (VGK). As shown in the chart below, consumer spending has seen a consistent rise for the past few quarters. It increased from 1,315.4 billion euros in the first quarter of 2013 to 1,357.8 billion euros in the fourth quarter of 2015, an all-time high. Consumer spending increased 1.2% in the last quarter of 2015 over the same quarter the previous year.
The declining unemployment rate, lower energy prices (IXC), and rising wages suggest that solid consumer spending is likely to continue in the short term, which will provide wider support to Eurozone (HEDJ) (IEUR) GDP growth.
ECB stimulus
The ECB (European Central Bank) launched several measures to boost the economy and enhance inflation expectations. The bank expanded its massive bond-buying program to $91.5 billion a month from the earlier $68.7 billion and decided to acquire corporate bonds as well. Additionally, the ECB cut its main refinancing rate to 0% and the deposit rate to -0.4% to spur the economy. The ECB will continue to pursue aggressive monetary easing over the next few months.
Accommodative central bank policies are expected to provide support to a gradual economic recovery.