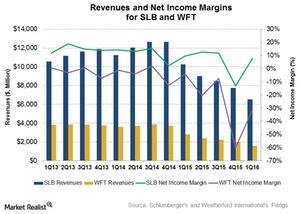 How Does SLB Score Compared to WFT in Revenue and Income?
By Alex Chamberlin

Jun. 1 2016, Published 7:18 p.m. ET
Revenue comparisons
All of Schlumberger's (SLB) geographic operations witnessed revenue declines in 1Q16 over 1Q15. Overall, SLB's year-over-year 1Q16 revenues declined by 36%, as compared to the 43% decline Weatherford International witnessed.
The North America region witnessed a similar revenue decline (53%–55% fall) for both companies from 1Q15 to 1Q16. But SLB's Latin America region was the most resilient (22%) fall during the same period. In WFT's Middle East, North Africa, and Asia-Pacific region, the revenue fall was relatively moderate (32%) during that period.
Article continues below advertisement
Operating and net income
Both the companies witnessed operating income declines in 1Q16 on a YoY (year-over-year) basis. WFT's North America region 1Q16 operating losses deteriorated further to $128 million, as compared to its $10 million operating loss one year previously.
By comparison, Schlumberger recorded an operating loss in 1Q16, but the fall was much more slight ($10 million). Overall, SLB's net income margin was 8% in 1Q16, as compared to the 31% net loss margin for WFT in 1Q16.
Article continues below advertisement
Why net incomes fell
Year-over-year, WFT's 1Q16 net loss deteriorated mostly due to $193 million (pre-tax) in litigation charges, severance and facility closures, supply-contract-related charges, and asset write-downs. There were no such charges for SLB in 1Q16.
Notably, Schlumberger makes up 1.2% of the iShares S&P 500 Value ETF (IVE). For investors looking for exposure to the energy sector, energy makes up 12.9% of IVE.
Value drivers for SLB and WFT
North American operations for both the companies were affected by falling rig count and upstream companies' drilling and exploration budget cuts. This created lower demand and pricing pressure for oilfield service companies' products and services, eroding these companies' revenues and margins. Apart from that, these companies faced different value drivers in the other parts of their geographic operations. 
The major factors affecting Schlumberger's revenue and income include:
muted multi-client seismic license sales
lower drilling activity in Australia and Asia-Pacific
severe weather, project completion slowdown, and job cancellations in the Europe, CIS, and Africa region, (due primarily to weakness in Russia and Central Asia)
The value drivers for Weatherford International's international operations include:
spending reductions and activity declines, primarily in Colombia, Mexico, Brazil and Venezuela
project cancellations throughout the Sub-Sahara Africa region
lower seasonal product sales in well completion, artificial lift, and well construction that impacted the Gulf States, China, Australia, and Indonesia
Now let's analyze the balance sheets of these two oilfield service companies.