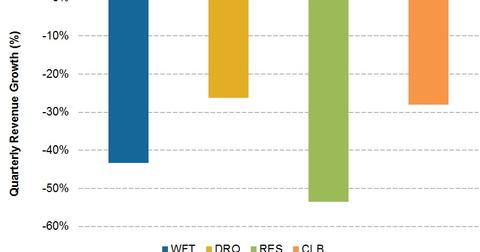 Did RPC, Inc. Lose Revenue More than OFS Peers in 1Q16?
By Alex Chamberlin

Updated
Comparing revenue growth
All four of our select OFS (oilfield equipment and services) companies—Weatherford International (WFT), Core Laboratories (CLB), Dril-Quip (DRQ), and RPC, Inc. (RES)—recorded 1Q16 revenue declines as compared to the previous year. But Dril-Quip registered the lowest revenue decline in the group, recording a 26% YoY (year-over-year) revenue decline.
DRQ's 1Q16 revenue was $166.5 million, as compared to $226 million one year earlier. Despite its lower revenues from the Western and Eastern Hemispheres, DRQ's revenues from Asia-Pacific increased by 14% in 1Q16 YoY. Notably, DRQ makes up 0.15% of the iShares Core S&P Mid-Cap (IJH).
Article continues below advertisement
The laggards
By comparison, Core Laboratories' 1Q16 revenue fell by ~28% to $153.6 million from $214 million one year ago. CLB's Reservoir Management segment suffered a 52% YoY revenue decline, while the Reservoir Description segment was the most resilient, with a fall of only 16.6%. This was because delayed spending commitments by the upstream companies affected CLB's Reservoir Management segment.
Weatherford International recorded a 43.3% YoY revenue decline in 1Q16. Its 1Q16 revenue was $1.58 billion versus $2.79 billion one year earlier, and its North America region declined the most (53%) from 1Q15 to 1Q16, while its Middle East, North Africa, and Asia-Pacific region revenue decline was more moderate (32% fall).
The fall was due primarily to lower drilling activity and energy companies' spending reductions and activity declines, primarily in Colombia, Mexico, Brazil, and Venezuela.
RPC, Inc. was the most affected
RPC, Inc. recorded a 53.5% YoY revenue decline in 1Q16. Its 1Q16 revenue was $189 million, as compared to $406 million one year previously. RPC Inc.'s revenues are closely linked to directional and horizontal wells, and the US rig count has declined 51% in the past year. The lower rig count also caused significant revenue declines for RPC, Inc.
Now let's review these companies' earnings.