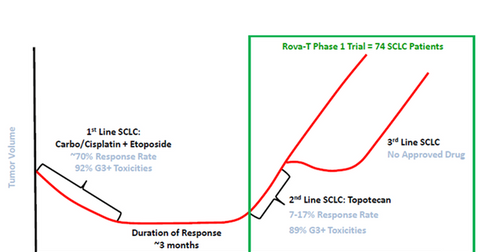 Could Rova-T Become AbbVie's Blockbuster Therapy for Small Cell Lung Cancer?
By Margaret Patrick

Updated
SCLC opportunities
Rova-T is currently being explored in clinical trials as a third-line therapy for SCLC (small cell lung cancer). With only one approved drug as a second-line therapy for SCLC—and no approved therapy for third-line treatment—AbbVie (ABBV) expects Rova-T to capitalize on the significantly high unmet demand in this patient segment. AbbVie thus expects to diversify its revenue base and pose a strong competition to other oncology players such as Bristol-Myers Squibb (BMY), Merck (MRK), and Eli Lily (LLY).
Article continues below advertisement
According to the National Cancer Institute, second-line therapy is explained as "treatment that is given when initial treatment (first-line therapy) doesn't work, or stops working." The National Cancer Institute further explains thirdl-ine therapy as "treatment that is given when both initial treatment (first-line therapy) and subsequent treatment (second-line therapy) don't work, or stop working."
Standard of care
The above diagram shows the standard of care that is currently followed for SCLC. As a first-line therapy, patients are administered a chemotherapy agent that is usually carboplatin or cisplatin in combination with etoposide. While this therapy has a 70% response rate, it results in high toxicity levels. According to the National Cancer Institute, a response rate is explained as "the percentage of patients whose cancer shrinks or disappears after treatment" while toxicity is "The extent to which something is poisonous or harmful."
The second line of therapy for SCLC consists of topotecan, the only drug approved by the FDA (US Food and Drug Administration) for this indication. However, physicians may not prefer this therapy as it has high toxicity and a response rate of only 7% to 17%.
With such weak competition, if approved, Rova-T is expected to become a blockbuster therapy. If this proves correct, it will likely boost the share prices of the Vanguard Growth ETF (VUG), which has about 1.1% exposure to AbbVie.
In the next part, we'll analyze Rova-T's basic mode of functioning.