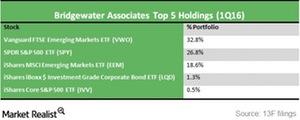 Ray Dalio Suggests Emerging Markets, and George Soros Says Gold, but What's Your Pick?
By Surbhi Jain

Nov. 20 2020, Updated 10:39 a.m. ET
Emerging markets amid the market rout
According to the latest filings, Ray Dalio's portfolio is heavily tilted toward emerging markets. (Check out "Ray Dalio and Emerging Markets: Bargain Shopping or Value Bets?") Notably, Bridgewater Associates' 1Q16 portfolio had a 32.8% allocation to the Vanguard FTSE Emerging Markets ETF (VWO) (worth a good $2.5 billion) and another 18.6% in the iShares MSCI Emerging Markets (EEM) (worth $1.5 billion).
Article continues below advertisement
A good 51.4% of Dalio's portfolio is invested in the emerging markets. The market baron also saw some of his SPDR S&P 500 ETF (SPY) holdings affected in the first quarter this year. Dalio seems to have assessed the risks of staying invested in developed markets (EFA) (VEA) vis-à-vis emerging markets in the light of the macro events affecting stock markets and fund flows every now and then.
On June 24, the developed markets (EFA) (VEA) recorded an 8.6% dip, as compared to the emerging markets (EEM) (VWO), which dipped by 6%. US equity (SPY) was down 4%, while UK equity (EWU) plunged close to 12%.
Positions in safe havens
Meanwhile, George Soros has been stacking up on gold (GLD) as a safe-haven bet, which is in line with his bearish views on the economy. Check out "George Soros Is Shorting the S&P 500: Are You?"
Crispin Odey, CEO of London-based hedge fund, Odey Asset Management, said that his fund gained 15% on the UK's Brexit results. The hedge fund magnate made over 220 million pounds on June 24. Crispin's win can be attributed to his big short positions in the pound and certain company stocks. The fund's performance was also boosted by its wagers on gold, which rallied as investors sought stability amid heightened market volatility. Notably, his gains on Friday, June 24, helped Odey fund half its 2015 losses.
Stay updated on our analysis and insights into the asset management industry by visiting our Active Management page.