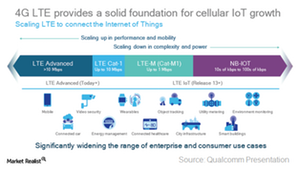 Qualcomm Is Bringing LTE to Battery-Powered IoT Devices
By Puja Tayal

Updated
Qualcomm in IoT space
We've already discussed how Qualcomm (QCOM) has undertaken its first legal action to recover lost licensing revenue from Chinese handset maker. Other than recovering lost revenue, the company is looking for new revenue opportunities in adjacent markets. Hence, it has made its way into the IoT (Internet of things) market and is redesigning its ARM-based mobile chips for IoT devices.
Recently, the company launched an LTE (long-term evolution) modems for battery-powered IoT devices to increase their communication range.
Article continues below advertisement
Qualcomm's new LTE modems for IoT devices
The communication range of a battery-powered IoT device is currently limited to Bluetooth and Wi-Fi. The drawback of LTE is that it consumes a lot of power, and so it's not suitable for IoT devices that run on batteries. Overcoming this obstacle, Qualcomm has launched the MDM9207-1 modem that supports 10 Mbps (megabits per second) download speed and has a battery life of ten years on two AA batteries.
Qualcomm has also launched a Snapdragon X5 LTE modem that supports a 150-Mbps download speed but does not have a power saving mode. Both modems support several LTE standards around the world. Qualcomm is working with companies like ZTE and Sierra Wireless to integrate LTE modems in IoT products.
Meanwhile, Qualcomm has secured 100 design wins from 60 OEMs (original equipment manufacturers) for the MDM9207-1 modem. The company may eventually integrate modems, sensors and microcontrollers into one SoC (system-on-chip) as it did for mobile. Cypress Semiconductor (CY) recently acquired Broadcom's (AVGO) IoT business to provide a similar SoC for IoT devices.
LTE standards for IoT
The 3GPP (third generation partnership project) recently standardized Release 13's three LPWA (low-power wide area) technologies: NB-IoT (narrow band IoT), eMTC (enhanced machine type communications) and EC-GSM-IoT (extended coverage GSM IoT). Qualcomm was a main contributor in the first two technologies.
AT&T (T) is planning to deploy eMTC or Cat-M network for IoT while Verizon (VZ) is working on products that support release 13. Notably, you can gain exposure to Qualcomm and other technology stocks by investing in the iShares Russell 1000 ETF (IWB), which holdings in large-cap US equities including 1.11% in VZ, 0.01% in CY, 0.28% in AVGO, and 0.39% in QCOM.
Other than LTE modems, Qualcomm has also launched chips for wearables and drones. We'll take a closer look at these products in the next part.