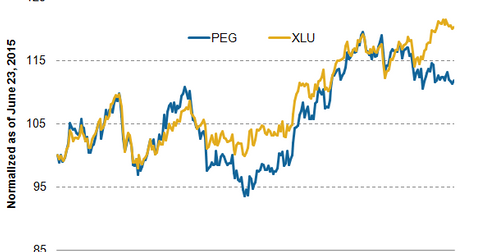 Is Public Service Enterprise Better in the Hybrid Utility Group?
By Vineet Kulkarni

Jun. 27 2016, Published 10:25 p.m. ET
Hybrid utilities: Changing the business mix
Hybrid utilities were forced to switch to relatively stable business mixes when earnings from their mainstay, competitive operations, started dragging total earnings from the last few years.
The $22 billion Public Service Enterprise Group (PEG) is also shifting toward regulated operations, eyeing persistently weak wholesale power prices.
In 2015, regulated utility operations contributed nearly 50% of PEG's total earnings. This is expected to be a growth driver for the company, as earnings from regulated utility operations are expected to rise by 14% this year, and earnings from wholesale operations are estimated to fall by ~20% this year.
Article continues below advertisement
PEG from an investor's perspective
Public Service Enterprise's capital expenditure plan is expected to expand its rate base, which could ultimately stabilize its earnings. PEG increased its annual dividend by 5.4% in 2015. PEG's dividend growth rate has remained near 2.5% in the last five years. The company's management seems quite confident about its cash flows in the near future.
The rally in utilities this year has skyrocketed the industry's total returns, which have outperformed broader equities (SPY) by a huge margin. Public Service Enterprise returned nearly 15% in the last year. It will be interesting to see how PEG performs in this challenging environment, especially when an expected interest rate hike is weighing on utilities.
PJM capacity auctions
Exelon Corporation (EXC) and Public Service Enterprise were two of the biggest losers in the recent PJM capacity auctions that took place for the delivery year 2019–2020. The auctions showed that lower electricity demand would persist in the long term.
Falling demand is a big negative for unregulated utilities (ETR) (AES), as it may dent their total earnings. However, PEG is well placed among competitive energy players because of its geographically advantageous location. PEG's merchant power plants generally fetch higher capacity prices due to their presence in transmission-constrained locations.