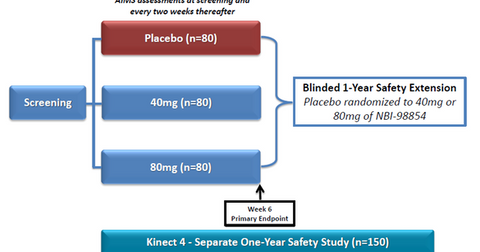 Positive Top-Line Data May Help Secure FDA Approval for Valbenazine
By Margaret Patrick

Updated
Kinect 3 Study
Positive results from its Kinect 3 Study, a phase-3 trial that tested the efficacy and safety profile of Neurocrine Biosciences' (NBIX) Valbenazine as a treatment for TD (tardive dyskinesia), are expected to serve as important evidence supporting the drug's NDA (new drug application).
Valbenazine's NDA will also be supported by data collected from the ongoing open-label safety study Kinect-4. Based on strong clinical trial results, Neurocrine Biosciences has continued to trade at higher valuation multiples than Ionis Pharmaceuticals (IONS), United Therapeutics (UTHR), and Horizon Pharma (HZNP).
Article continues below advertisement
Efficacy results
The above diagram shows the structure of the Kinect 3 study, wherein 234 moderate to severe TD patients were administered a placebo, 40 mg Valbenazine, or 80mg Valbenazine. These patients also suffered from disorders such as schizophrenia, schizoaffective disorder, or mood disorders. It was found that six weeks of an 80-mg, once-daily dosage of Valbenazine resulted in statistically significant improvement among TD patients. This improvement was reported through changes in the abnormal involuntary movement scale.
We should note here that ClinicalTrials.gov defines a placebo as "a substance that does not contain active ingredients and is made to be physically indistinguishable (that is, it looks and tastes identical) from the actual drug being studied."
Safety results
The study demonstrated that patients could tolerate the therapy without any significant side-effects or safety events during the six-week dosing period. Additionally, the Kinect-4 study will continue to gather more information about the safety profile of the drug, though it will not be required for filing Valbenezine's new drug application.
Physician education
In addition to its strong efficacy and safety profile, Valbenazine's commercial success will also depend on educating physicians about the prevalence of TD, its impact on quality of life, and the effectiveness of Valbenazine in treating TD. If Neurocrine Biosciences manages to be successful in these efforts, it could boost the company's share prices as well as the iShares Nasdaq Biotechnology ETF (IBB). Neurocrine Biosciences makes up about 0.66% of IBB's total portfolio holdings.
In the next part, we'll analyze Neurocrine Biosciences' research programs for Tourette Syndrome.