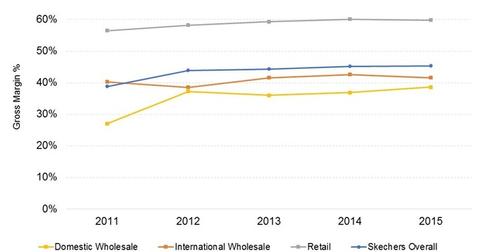 How New Retail Stores Grow Skechers' Margins and Profitability
By Phalguni Soni

Updated
Analyzing Skechers' retail segment's financials and growth prospects
The retail (XRT) segment is Skechers' (SKX) smallest-reporting segment, accounting for 26.5% of the company's sales, or $833 million, in 2015.
However, the segment's sales have almost doubled in the last four years, from $431 million in 2011 to $833 million in 2015, a compound annual growth (JKH) (FNY) rate of 17.9% over the period.
Despite their having a relatively small portion of Skechers' revenue pie, retail stores provide Skechers with the opportunity to offer the customer a more complete brand and product experience.
At the same time, retail stores provide Skechers with more control over operational aspects such as marketing and branding, product displays, disposal of excess and discontinued product lines, and higher pricing power.
Article continues below advertisement
Profitability considerations
Retail and e-commerce sales are far more profitable than sales made via wholesale channels. The gross margin for Skechers' retail segment came in at 59.8% in 2015, compared to 45.2% for the company overall.
While Skechers' concept stores help it to showcase its complete product range and highlight its new lines, its factory outlet stores and warehouse outlet stores help it to curb the excessive discounting of its discontinued product lines and to enable the offloading of surplus inventory. Skechers is planning on opening another 55–65 company-owned retail stores in 2016.
Other athletic gear companies such as Nike (NKE), Under Armour (UA), Adidas (ADDYY), and VF Corporation (VFC) are also keen to shift more of their sales mixes toward retail and e-commerce sales, which are collectively called direct-to-consumer (or DTC) sales. Their rationales for developing these channels run along the same lines as Skechers' rationale.
Nike derived 23.1% of its brand sales from the DTC channel in fiscal 2015, compared to 16.2% in fiscal 2012.
Under Armour's DTC sales contribution rose from 23% in 2010 to 30% in 2015.
VF Corporation's DTC sales contribution rose from 18% in 2010 to 27% in 2015.
Adidas' DTC sales contribution rose from 19.9% in 2010 to 26.4% in 2014.