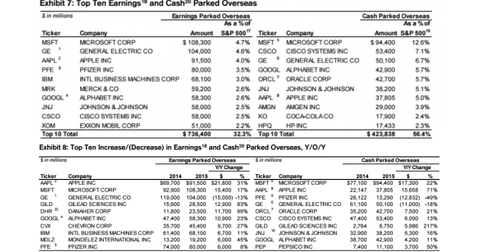 Why Microsoft Could Be the Most Affected by Brexit
By Anne Shields

Jun. 30 2016, Updated 8:07 a.m. ET
Microsoft has more cash overseas than other S&P 500 companies
Previously in this series, we discussed how the US dollar got a boost from Brexit and how the strong dollar (UUP) impacts Microsoft (MSFT) and the entire technology sector.
Apart from revenue generation, it's their cash parked overseas that makes tech companies vulnerable to currency fluctuations. According to a Credit Suisse report released in March 2016, S&P 500 (VOO) companies have at least $750 billion in cash and $2.3 trillion in earnings parked outside of the United States. Out of the total $750 billion in cash parked overseas, IT (information technology) companies account for 53%.
Microsoft holds $108.3 billion worth of earnings overseas, which accounts for 4.7% of the total overseas cash held by S&P 500 companies. Microsoft has $94.4 billion in cash parked overseas, which accounts for 12.6% of S&P 500 companies' total.
Apple (AAPL), IBM (IBM), Google (GOOG) (GOOGL), and Cisco Systems (CSCO) are other leading technology companies that made the top ten list. Microsoft's top position in overseas earnings and cash makes it more vulnerable to currency fluctuations than its peers.
The chart above shows the top ten companies that have the most earnings and cash parked overseas, according to Credit Suisse.
Article continues below advertisement
Cash parked overseas limits financial flexibility and poses macroeconomic challenges
By keeping their earnings and cash abroad, companies limit their financial options, as they usually want to avoid bringing cash to the United States to avoid taxes.
As a result, these companies end up borrowing in the United States. This explains why, despite having significant cash reserves, Microsoft resorted to debt to fund its latest and largest ever acquisition of LinkedIn (LNKD).