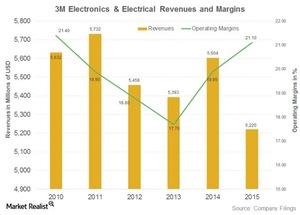 An Exploration of 3M Company's Electronics & Energy Segment
By Shannon Black

Updated
Underlying businesses
3M Company's (MMM) Electronics & Energy group (or EEG) comprises five underlying businesses. The segment derived 60% of its $5.4 billion revenue in 2015 from electronics and the remaining 40% from energy.
The two electronic solutions businesses, Display Materials & Systems and Electronic Materials, were responsible for $2 billion and $1.3 billion in annual revenues, respectively, in 2015. The remaining three Energy businesses, Electrical Markets, Communication Markets, and Renewable Energy, contributed $1.2 billion, $0.4 billion, and $0.4 billion in revenues, respectively.
In the Energy business, 3M enables the transmission of electric power and the transmission of information by connecting data and voice services from tower to home.
Article continues below advertisement
Display Materials & Electronic Materials
The Display Materials & Systems business provides products that create thinner, brighter, more durable, and more power-efficient films in LCD (liquid crystal display) computer monitors and televisions, cellphones, tablets, notebooks, and automotive displays.
The Electronic Materials business provides products across the value chain of electronics. These include touch sensor components and materials that go into semiconductor manufacturing and packaging, such as high performance fluids used in computer chips.
Revenues and profitability
In the five year period between 2011 and 2015, the EEG segment's sales rose from $5 billion to $5.4 billion at a compound annual growth rate of 1.6%. The segment's contributions to 3M's total sales steadily increased from 16.7% in 2011 to 17.5% in 2015.
This was in contrast with the segment's operating income contributions, which fell from 17% of 3M's total operating income in 2011 to 14.8% in 2015. Interestingly, this was not at the expense of falling margins. Operating margins rose to 21.1% in 2015, 20 bps higher than 19.9% in 2011.
However, other segments' margins have risen substantially over the years, leading to an overall lower contribution of the EEG segment to 3M's operating income.
Key ETFs
Investors interested in trading in the electronics space can look into the Technology Select Sector SPDR ETF (XLK) and the iShares U.S. Technology ETF (IYW).
Major holdings in XLK include Apple (AAPL) with a weight of 13.1%, Microsoft (MSFT) with a weight of 10%, and Facebook (FB) with a weight of 6.5%.