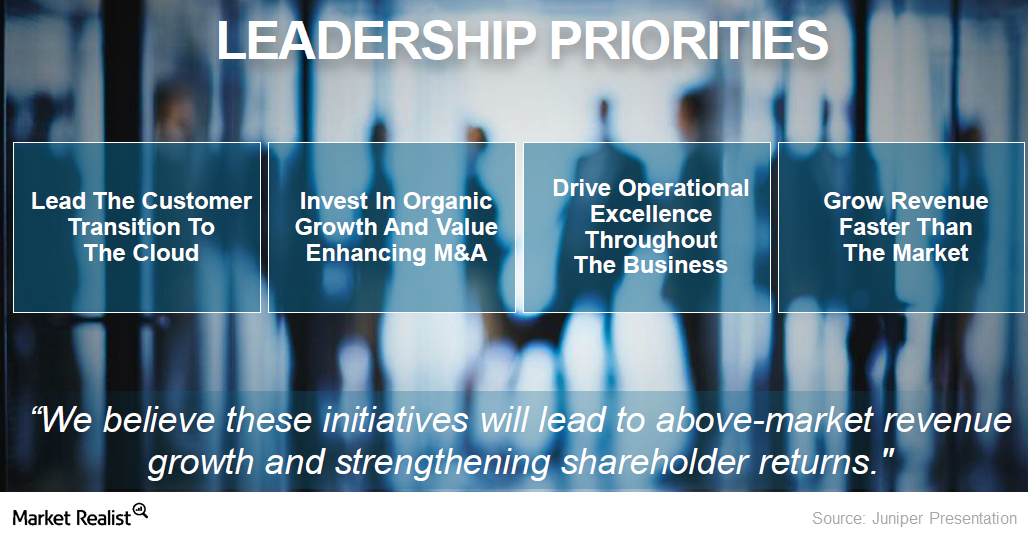 What Are Juniper's Priorities Going Forward?
By Adam Rogers

Jun. 16 2016, Updated 12:05 p.m. ET
Customer transition to cloud
As discussed earlier in this series, Juniper Networks (JNPR) is focused on leading the customer transition in the cloud segment. The company also wants to continue to invest in organic growth and look for key acquisitions to accelerate its overall growth strategy.
Earlier this year, Juniper announced its intent to acquire optical equipment provider BTI Systems. The joining of Juniper's data center switching and IP (internet protocol) routing platform with BTI's cloud and metro networking software and systems could transform Juniper's packet optical networking segment.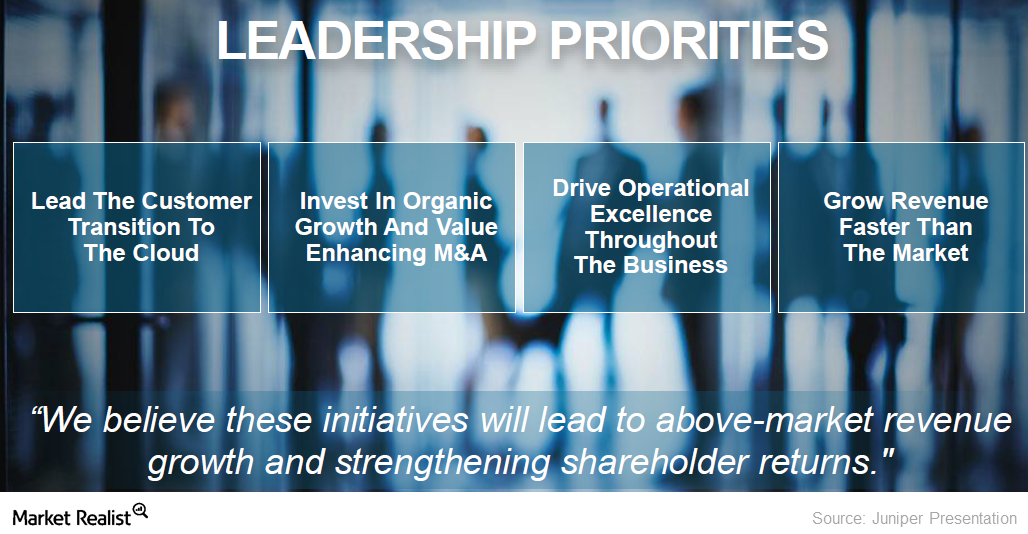 This acquisition will also provide customers with open-software-driven solutions that are automated, cost-efficient, and programmable. Juniper expects the acquisition to enhance its ability to provide network automation. BTI complements Juniper's IP and Ethernet products.
Article continues below advertisement
US-based (SPY) telecommunications (IYZ) operators such as Verizon (VZ) and AT&T (T) are looking to upgrade their networks to provide high broadband speeds of 100 Gbps (gigabytes per second) to customers. During the Goldman Sachs Technology and Internet Conference in March 2016, Juniper said that the acquisition of BTI Systems would help it make enhancements to its MX product line, an essential component in the development of metro networks.
Operational efficiency to drive growth
Juniper restructured itself last year to improve profit margins and earnings. It aims to grow revenue faster than the market. Juniper CEO Rami Rahim stated that "We believe these initiatives will lead to above-market revenue growth and strengthening shareholder returns."