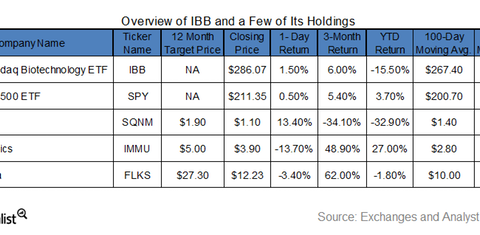 Investors Not Impressed with Immunomedics' IMMU-132 Study
By Peter Neil

Updated
Market outlook
On June 6, 2016, the Markets turned positive as Janet Yellen, chair of the Federal Reserve, hinted at a rate hike, although she didn't mention the timing of a hike.
Wall Street saw this as a dovish view. The Dow Jones Industrial Average and the SPDR S&P 500 ETF (SPY) rose 0.6% and 0.5%, respectively. However, biotech stocks continued their upward trend and appeared to be in a positive, consolidating mood. The iShares Nasdaq Biotechnology ETF (IBB) rose 1.5% that day.
IBB closed at $286.07 and was trading above its 20-day moving average. It has fallen 15.5% on a year-to-date basis. In IBB's portfolio, 147 stocks rose and 42 stocks fell from the previous day's close.
Article continues below advertisement
Outperformers and underperformers
On June 6, 2016, the top gainers in IBB were Sequenom (SQNM) and Acadia Pharmaceuticals (ACAD), which rose 13.4% and 12.8%, respectively. Sequenom moved on higher trading volumes, with ~1.4 million shares traded compared to a three-month average trading volume of 665,000 shares per day. Flex Pharma (FLKS) and Immunomedics (IMMU) are the most underperforming stocks. They fell 3.4% and 13.7%, respectively. Flex Pharma fell on profit booking.
Immunomedics stock falls 13.7%
Immunomedics was the most underperforming stock in IBB on June 6, 2016. The stock fell since investors weren't impressed by data from the company's sacituzumab govitecan (IMMU-132) trial, which had a response rate of 13%.
In a press release, Immunomedics announced that "sacituzumab govitecan (IMMU-132), its lead investigational antibody-drug conjugate ([or] ADC), shrank tumors by 30% or more initially in 26% (12/46) of evaluable patients with metastatic non-small-cell lung cancer ([or] NSCLC), with a later confirmed overall objective response rate ([or] ORR) of 13%, in accordance with RECIST 1.1 criteria. For the patients with confirmed responses, the duration of response ([or] DOR) was 9 months."
Immunomedics closed at $3.90 and was trading below its 20-day moving average price of $4.20. However, the stock has risen 27% on a year-to-date basis. It recorded trading volumes of 8.4 million shares compared to the three-month average trading volume of 1.6 million shares per day. Immunomedics has a book value of $-0.47 and a weight of 0.1% in IBB's portfolio.
In the next part of our series, we'll see why Mylan is so high after the trastuzumab biosimilar data.