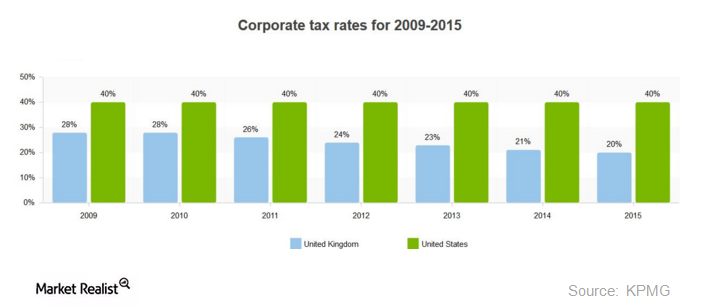 Why IBM and Amazon Invested Billions in the UK
By Anne Shields

Jun. 29 2016, Published 12:29 p.m. ET
Leading technology players' UK investment could get complicated post-Brexit
In 2016, IBM acquired Optevia to strengthen its presence as an SaaS (software-as-a-service) consultant in the United Kingdom's (EWU) public sector market.
Amazon (AMZN), the undisputed leader in the cloud space, has invested over $6.3 billion in the United Kingdom in the last six years. In March 2016, AMZN announced plans to enhance its operations in 2016, which involved the opening of two new fulfillment centers and an addition of 2,500 new permanent jobs in the United Kingdom. Post-Brexit, only time will tell how IBM and Amazon plan to expand.

Article continues below advertisement
Low corporate taxes in the United Kingdom make it a preferable choice
The United Kingdom (EWU) has seen a lot of M&A (mergers and acquisitions) activity in 2016. On March 21, 2016, IHS (IHS), a data intelligence and analytics company, announced its acquisition of Markit (MRKT.O) to form a $13 billion company in the United Kingdom.
The primary reason behind this move was the benefit of the lower corporate tax structure in the United Kingdom. Many US-based companies have exercised this option to lower their taxes. The above chart by KPMG shows the difference in US and UK corporate tax rates between 2009 and 2015.
In February 2016, BlackBerry (BBRY) announced its acquisition of Encription, a UK-based company that provides government-focused consultancy, especially security offerings. In 2015, Accenture (ACN) acquired two Salesforce (CRM) partners, Tquila and Cloud Sherpas. Both acquisitions enabled Accenture's Salesforce consultants to more than double in the United Kingdom.
The United Kingdom makes up ~1% of the world's population and contributes 3% toward global GDP. Looking at its contribution, it has little influence on information technology markets. Post-Brexit, this amount will likely be even less.