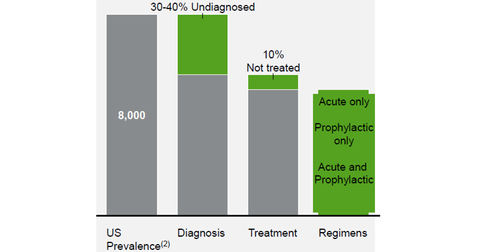 How Does Shire's Late-Stage Pipeline Look?
By Jillian Dabney

Jun. 21 2016, Published 2:23 p.m. ET
SHP643
SHP643, a phase three candidate, might present significant growth potential for Shire (SHPG) in the hereditary angioedema (or HAE) space, as it has an advantage in terms of mode of administration and efficacy. The drug was added to Shire's portfolio following the acquisition of Dyax in 2015.
SHP643 is a "long-acting injectable monoclonal antibody for HAE prophylaxis, with the potential to lower rates of HAE attacks and significantly improve patient convenience." Shire is a leader in the angioedema space. For understanding the company's angioedema flagship products, you can refer to How Does Shire Lead the Angioedema Space?
Article continues below advertisement
What is the market opportunity for SHP643?
The prevalence of HAE in the US is ~8,000. About 60%–70% of this patient population has been diagnosed. Out of the diagnosed population, 10% of the patients aren't treated, and 40% of the treated patients undergo acute treatment. If approved, the drug might generate global annual sales up to $2 billion.
Breakthrough designation for SHP621 and SHP625
The two pipeline molecules won Breakthrough Therapy Designation from the FDA. SHP621 and SHP625 are being investigated for rare diseases eosinophilic esophagitis (or EoE) and progressive familial intrahepatic cholestasis type 2 (or PFIC2), respectively. The prevalence of EoE is 15–55 cases per 100,000 people, whereas PFIC affects one in 50,000–100,000 births. Industry-specific factors such as pricing pressure, pipeline approval, and volume uptake are some of the major drivers of the company's share price. 
To avoid the direct equity investment risk, you can consider ETFs like the ProShares Ultra Nasdaq Biotechnology (BIB), which invests 1.1% of its total holdings in Shire. The fund's other major biotechnology holdings include Amgen (AMGN), Celgene (CELG), and Gilead Sciences (GILD).