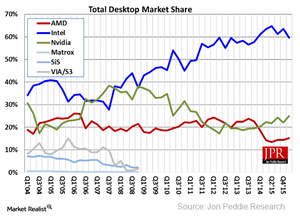 How AMD's 'Water Drop' Pricing Strategy Could Impact All GPU Pricing
By Puja Tayal

Updated
What AMD hopes to achieve
As a common practice, companies launch high-end GPUs at a higher price to boost their profit margins. But Advanced Micro Devices (AMD) is going against the conventional practice with its "water drop" strategy, in which it plans to gain a larger market share by selling high volumes of its low-priced, virtual-reality-ready GPU (graphics processing unit) Radeon RX 480 to a larger audience.
Article continues below advertisement
AMD's GPU market share
After enjoying a strong share in the GPU market in 2013, AMD's market share started to fall in 2Q14 as it was slow in launching updated products, and it lagged behind on manufacturing processes. NVIDIA (NVDA) took the advantage and grew its market share.
Now AMD aims to regain its market share by launching competing products on time. According to Mercury Research, AMD increased its GPU market share from 26.2% in 4Q15 to 29.4% in 1Q16 with its RadeonR9 Series GPUs, which compete with NVIDIA's GPUs in performance. Now AMD will mix performance with price and accelerate this growth.
Notably, the Semiconductor ETF (SMH) has holdings in 26 semiconductor stocks, including ~12.9% in INTC and ~4.6% in NVDA.
Impact of AMD's low pricing
AMD's Radeon RX 480 GPU performs equally or better than Radeon R300 and Fury Series, which each cost more than $300. If AMD offers RX 480 at $199, the sales of its R300 and Fury cards are likely to be affected. This could have a cannibalization impact, wherein the new product eats up the sales of existing products.
Will AMD's new offering bring down the price of its other existing GPUs? We'll know by the end of June 2016, when the company launches RX 480. It may also force NVIDIA to lower the prices of its GPUs targeted at mainstream customers.
More orders?
While AMD's pricing strategy raises uncertainty about GPU pricing, it's clearly good news for Samsung (SSNLF) and Global Foundries because they would receive more orders from AMD to manufacture GPUs on 14 nm (nanometer) nodes.
In the next few parts of this series, we'll gauge the impact of AMD's new pricing strategy on the company's earnings as well as on NVIDIA and Intel's (INTC) earnings.