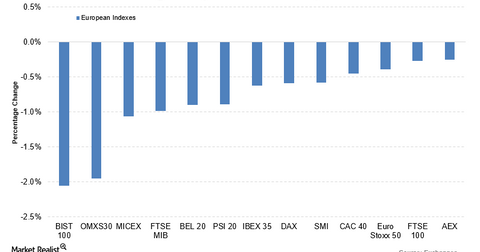 Will the Rise in US Indexes Act as a Catalyst for Global Markets?
By David Meyer

Updated
US indexes end the day on positive note
Looking at how US indexes reacted to the central bank policies on June 16, the S&P 500 VIX Index fell by 3.8%. The S&P 500 Index rose by 0.31% and the NASDAQ Composite (IXIC) rose by 0.21%. The Dow Jones Industrial Average was also trading higher. It rose by 0.53%. The rise was in contrast to the other major markets including the European and Emerging indexes—they posted heavy losses on June 16. Rising US markets could help the European and Emerging markets stage a comeback on early trade as markets digest the impact of the various monetary policy releases over the week.
Article continues below advertisement
Emerging markets are lower
Critical Asian indexes (AAXJ) were trading on a negative trajectory on June 16, 2016. The Oceania countries suffered minimal losses. The Australian (EWA) S&P/ASX 200 was trading near flat with a slight fall of 0.02%. The Dow Jones New Zealand Index (VPL) was the only major index trading positive. It rose by 0.26%. The Japanese economy depends on exports. It was impacted by the strengthening yen. The Bank of Japan refrained from more expansionary policies. The Japanese Nikkei 225 fell by 3.0%.
European markets fall
Major European indexes (DBEU) were trading negative on June 16 after the slight bounce back on Wednesday. The losses on Thursday were less compounded compared to the previous days of the week. With major central banks including the Bank of England and the Swiss National Bank taking a "wait and see" policy ahead of the referendum, investors seemed to follow suit. Markets remained range bound except in the commodity-driven economies.
Specifically, the German DAX and French CAC posted losses. They fell by 0.59% and 0.45%, respectively. The Euro Stoxx 50 (FEZ), a Eurozone blue chip stock index, fell by 0.39%. The United Kingdom's (FKU) FTSE 100 also remained range bound with a slight fall of 0.27% after the Bank of England's statement was in line with market expectations.