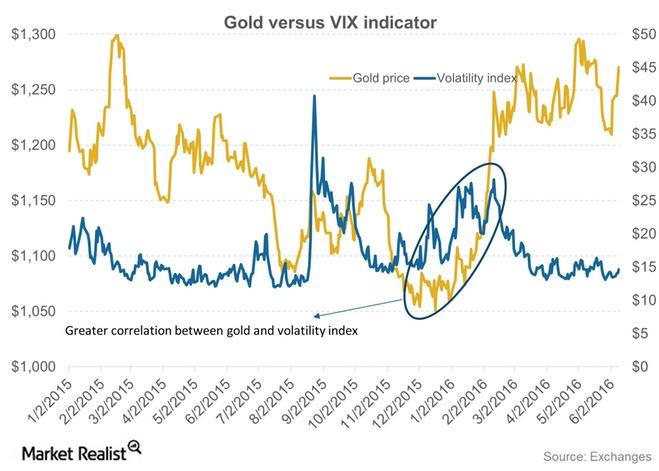 The Fed and the Brexit: What's Driving Gold Miners?
By Anuradha Garg

Jun. 16 2016, Published 4:47 p.m. ET
The Brexit referendum
On June 23, 2016, British citizens will vote to decide if the United Kingdom will stay in the European Union. Popularly known as a Brexit (Britain's exit from the European Union), the outcome of the vote could have far-reaching consequences for the European Union (EUSC), global currencies, and equity markets.
Uncertainty before the referendum has led German bond yields to fall into negative territory for the first time ever. Investors should note that bond prices and yields move in opposite directions. Falling yields imply that investors are parking their money in safe-haven assets to position themselves for the uncertainty of the Brexit vote.
Gold also ranks as a dominant safe-haven investment option. Gold (GLD) doesn't have a counterparty risk, which makes it one of the effective options for parking money in uncertain times. Other safe-haven assets include the US dollar, the Japanese yen, U.S. Treasuries, and sovereign bonds.
Article continues below advertisement
Opinion polls on a Brexit
The sentiment about a Brexit is driven to a large extent by opinion polls. Recent polls show that the likelihood of a Brexit is increasing. Gold prices have been rising due to this uncertainty, and they're likely to continue to rise ahead of the referendum.
The impact on gold prices after the referendum will obviously depend on the result of the vote. If Britain votes to leave the European Union, gold should continue its march forward since the contagion could spread to the rest of the European Union. In the case of an extreme risk of a Eurozone breakdown, gold might underperform other safe-haven and liquid assets such as the US dollar and the yen.
Miners follow the metal
In its June 2016 meeting, the Fed decided to keep US interest rates unchanged. This has given gold and gold miners a boost. Due to Market uncertainty, gold miners have gained considerably. Among major gold miners, Yamana Gold (AUY), Barrick Gold (ABX), Kinross Gold (KGC), Gold Fields (GFI), and Coeur Mining (CDE) have risen more than 25% in the first half of June.
In the next part, we'll see why investors are flocking to gold before the Brexit referendum vote.