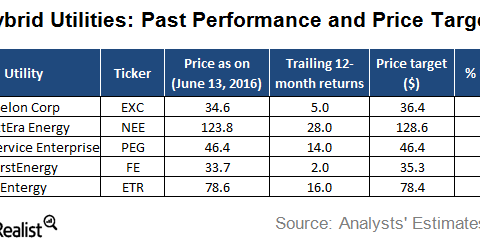 Exelon and Other Hybrid Utilities: What They Offer Investors
By Vineet Kulkarni

Jun. 16 2016, Published 11:10 a.m. ET
The outlook for Exelon
Nearly half of Exelon's (EXC) consolidated earnings comes from unregulated operations. This accounts for a significant amount of its earnings volatility. There's substantial pressure, particularly on hybrid utilities, due to energy demand management, an increasing contribution of renewables to power generation, and regulatory policies.
Exelon's failure to secure contracts in PJM Interconnection's capacity auctions for 2019–2020 confirms that the company is under stress. Exelon will close its Clinton and Quad Cities nuclear plants in Illinois in 2017 and 2018, despite the fact that they're the best performers in its fleet.
Exelon's higher leverage due to the Pepco acquisition is an added concern. However, Pepco's contribution to regulated operations may prove valuable and trigger earnings growth in the next few years.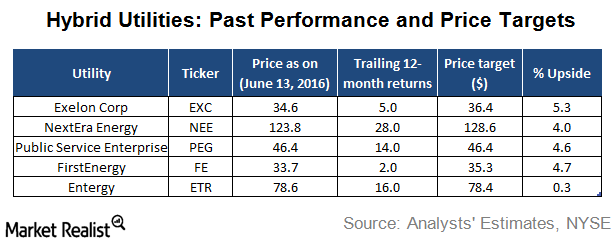 Article continues below advertisement
Price targets
According to Wall Street analysts, almost all the utilities have a dull upside in the next year considering the mounting challenges. An epic rally this year may be one of the reasons behind the unexciting price targets.
According to analyst estimates, Exelon has a one-year price target of $36.40 against its current market price of $34.60. It implies an expected upside of 5% in one year.
Of the 24 analysts tracking Exelon, 11 have recommended a "buy," and 12 have recommended a "hold" as of June 14, 2016. Only one analyst has recommended a "sell."
Considering the subdued dividend growth and small expected capital gains, hybrid utilities (PEG) (FE) seem to be unattractive for investors. Exelon is transforming into a stable business mix, but translating that to earnings and dividends may take time.