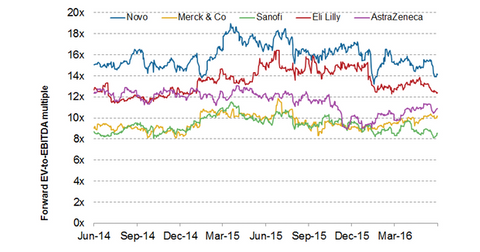 Evaluating Novo Nordisk's Efficiency Based on EV-to-EBITDA
By Jillian Dabney

Updated
Novo's premium valuation based on EV-to-EBITDA
On June 23, 2016, Novo Nordisk (NVO) was trading at a forward EV-to-EBITDA (enterprise value to earnings before interest, tax, depreciation, and amortization) multiple of 14.14x. On the basis of this operating efficiency measure, the company was trading at a premium compared to its peers.
Sanofi (SNY), AstraZeneca (AZN), Merck & Co. (MRK), and Eli Lilly (LLY) were trading at forward EV-to-EBITDAs of 8.54x, 10.88x, 10.16x, and 12.41x, respectively.
Article continues below advertisement
Why such a premium for Novo Nordisk?
Novo Nordisk's sustainability investor call clearly mentioned the following strategic priorities:
expansion of leadership in the diabetes space
establishment of a presence in obesity care
pursuit of leadership in hemophilia
expansion of its growth disorder franchise
Its long-term financial target of 10% operating profit growth along with 90% cash-to-earnings presents a further improvement in its efficiency. NVO plans to achieve 125% after tax operating profit to the net operating assets benchmark. If it's successful in achieving its long-term goals, EV-to-EBITDA will revert to its past multiple levels of 19x from its current 14x.
In 1Q16, Novo's operating and net margins stood at 45.2% and 34.7%, respectively. Its growing dominance in the diabetes space, its strong pipeline, and its expansion into the high-margin hemophilia business justify the premium multiple.
For detailed information on Novo Nordisk's pipeline, please refer to Novo Nordisk's Innovative Research and Development Pipeline.
Comparing Novo Nordisk's historical valuation multiple 
Novo Nordisk's average forward EV-to-EBITDA multiple was 16x over the past two years. The company's enterprise value has ranged from 13x to 19x times its forward EBITDA. Its current forward multiple of 14x of its EBITDA appears to be at the lower end of this range and could present a good investment opportunity.
In the next part of the series, we'll look at Novo Nordisk's sales outlook for 2016 and 2017. If you want to gain exposure to Novo Nordisk, you can invest in the PowerShares International Dividend Achievers ETF (PID). The fund offers 0.58% weight to Novo Nordisk.