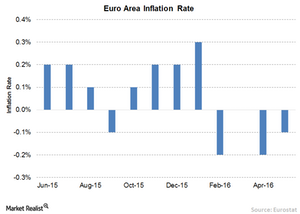 Why the Eurozone's Recovery Isn't Broad-Based Yet
By Jean Boivin

Jun. 14 2016, Updated 3:51 p.m. ET
Yet credit is not always easy to come by for those businesses that need it. Plus, data on inflation and corporate earnings have disappointed. Market concerns have been growing about the stability of Italy's fragile banking system. And investor sentiment toward Europe has soured, as reflected in hefty flows out of equity exchange traded products focused on the region, according to Bloomberg data.
Article continues below advertisement
Market Realist – Sustained recovery not yet in sight
Though there are green shoots appearing in European economies, the Eurozone's (EZU) (VGK) growth is still facing stiff long-term headwinds. Corporate lending has slowed and grew by just 1.2% YoY (year-over-year) in April, a slight improvement over the 1.1% growth recorded in March. Household lending grew 1.5%, slightly below the previous month's 1.6% growth.
Inflation stuck below zero
Consumer prices in the Eurozone have remained stuck in negative territory since February and failed to show any signs of revival in May. Although inflation increased to -0.1% YoY in May from -0.2% in the previous month, it is running way below the ECB's (European Central Bank) target of close to 2%.
Article continues below advertisement
Dwindling corporate earnings
European (IEV) earnings growth has been deteriorating over the past few quarters. The MSCI Europe Index witnessed a 9% fall in earnings in the first quarter. Earnings were mainly impacted by the energy and material sectors and weak capex trends due to falling commodity prices. Excluding energy and materials, European corporate earnings were flat.
Italy's banking system
Italy's (EWI) banking system is weighed down by bad loans worth 360 billion euros, or around 20% of the GDP, which poses a risk to the wider Eurozone economy. The ECB has already suggested that some of the private banks in the country shore up their capital bases. The Italian government's ability to provide financial backing to such banks is severely restricted due to limited financial resources and the European Union's state aid rules.
Equity fund outflows
In April, Eurozone (IEUR) equity funds witnessed a fourth consecutive month of outflows, as investors pulled out 6.4 billion euros during the month. Year-to-date, the equity funds have seen outflows worth 28.7 billion euros.