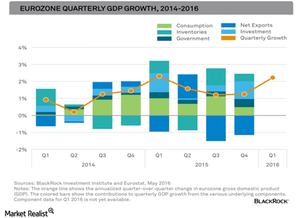 How the Eurozone Managed to Record Decent Economic Growth Recently
By Richard Turnill

Updated
Part 1: Why Eurozone Recorded Decent Economic Growth in Recent Quarters
Global Chief Investment Strategist Richard Turnill's chart of the week focuses on an underappreciated trend that supports the case for European stocks.
This week's chart focuses on an underappreciated trend that supports the case for European stocks: the European consumer growth story.
European economic growth has been surprisingly strong lately, driven by consumer spending, as the chart below shows.
Eurozone gross domestic product (GDP) growth has generally been ticking up, exceeding U.S. and Japanese growth last quarter. Consumption, as evident in the chart above, has been a strong contributor to growth over the last year and a half, and consumer spending likely contributed to the first quarter uptick. Easier credit, rising employment and greater purchasing power due to wage gains are driving this consumer recovery.
Article continues below advertisement
Market Realist – Consumer spending is driving Eurozone economy
The Eurozone (IEV) (VGK) posted decent economic growth in the first quarter of the year. According to Eurostat, Eurozone GDP grew 0.6% over the previous quarter, better than expectations of 0.4% growth and the strongest performance since 1Q15. In the first quarter, Eurozone GDP outdid US (SPY) (IVV) GDP growth, which grew 0.5%.
Robust economic indicators
The higher GDP growth in recent quarters has been driven mainly by rising consumer spending led by an increase in disposable income and a decline in the unemployment rate. Preliminary data from the European Commission shows that consumer confidence jumped to -7.0 in May compared to -9.3 in April, which was better than economists' expectations.
Similarly, household borrowing from banks (EUFN) grew at a decent rate of 1.6% year-over-year, the fastest since 2011. Rising household borrowing is an indication of stronger demand. On the corporate side, lending to non-financial companies rose 0.9%, the highest growth during the past five years. Total private sector lending also rose 0.9%. The recent upsurge in credit growth was mainly attributed to aggressive action from the ECB (European Central Bank).
The unemployment rate in the Eurozone continued to decrease and stood at 10.2% in March compared to 10.4% in February. This was the lowest unemployment rate in the last five years.