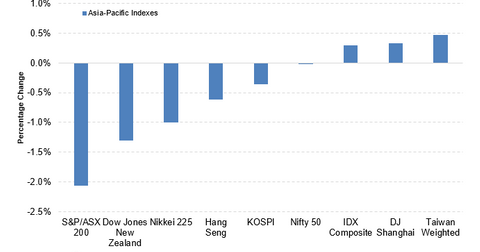 Could a Dovish Fed Help to Counter Brexit Worries in Global Markets?
By David Meyer

Updated
European markets continue to slide, but could there be a recovery after the Fed meeting?
Major European indexes (DBEU) were trading negative on June 14, 2016, adding to the losses from the previous three days. European investors continue to be concerned about the upcoming "Brexit" referendum scheduled for June 23. Investors will closely analyze Wednesday's FOMC statement. A dovish statement from the Fed could result in a temporary uptick in the European indexes.
Specifically, the German DAX and French CAC also posted losses, falling by 1.4% and 2.3%, respectively. The Euro Stoxx 50 (FEZ), a Eurozone blue chip stock index, fell by 2.0%. The United Kingdom's (FKU) FTSE 100 also reported a significant loss of 2.0% on June 14.
Article continues below advertisement
Emerging markets were mixed and Oceania and Japan were among major losers
Critical Asian indexes (AAXJ) were trading on a mixed note on June 14, 2016, with the Oceania countries suffering major losses as the Australian (EWA) S&P/ASX 200 fell by 2.1%. The Dow Jones New Zealand Index (VPL) also followed a similar trajectory as it fell by 1.3%. The Japanese markets were also on a negative bias as the Japanese currency continued to strengthen, which hampers its export-driven economy.
The MSCI once again decided not to include the Chinese stocks in their emerging markets index. However, the Chinese markets hardly had any impact on the MSCI decision as the Chinese Index DJ Shanghai rose by 0.33% for the day.
US markets are range-bound as investors prepare for Fed policy decision
On June 14, the S&P 500 VIX Index fell by 2.2% as the Fed monetary policy announcement drew closer. The S&P 500 Index fell by 0.18%, and the NASDAQ Composite (IXIC) fell by 0.10%. The Dow Jones Industrial Average was also trading negative with a fall of 0.33%. The markets weren't expecting a rate hike, as the Fed had already hinted that it would adopt a wait-and-watch policy due in part to the uncertainties surrounding the Brexit referendum. Thus, investors will focus on the Fed's economic outlook.