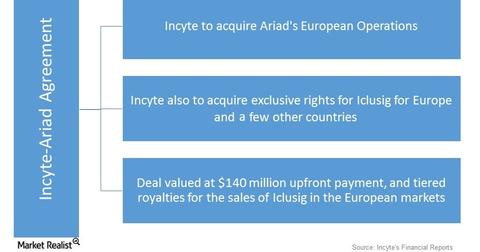 The Details of Incyte's Agreement with Ariad Pharmaceuticals
By Mike Benson

Jun. 13 2016, Updated 3:04 p.m. ET
Incyte and Ariad Pharmaceuticals
In May 2016, Incyte (INCY) entered into a definitive agreement for the acquisition of the European operations of Ariad Pharmaceuticals (ARIA). The acquisition would help Incyte expand its footprint in European markets for future products.
If the deal closes, Incyte will acquire exclusive development and commercialization rights for the drug Iclusig in Europe and a few other countries. Let's take a closer look at the details of these deals.
Article continues below advertisement
Acquiring Ariad's European operations
Incyte's acquisition of Ariad's European operations is a win-win situation for both companies. For Incyte, it provides an established setup that accelerates the expansion of Incyte's operations in Europe. This will help Incyte in its clinical developments as well as future product launches in European markets.
For Ariad, it will be an opportunity to raise funds and concentrate on Iclusig in US markets. The deal will include a $140 million upfront payment and tiered royalties payable to Ariad on sales of Iclusig in Europe. It also includes potential milestone payments for future developments of Iclusig. Under the terms of the agreement, Ariad has an option to buy back the rights for Iclusig.
Iclusig
Iclusig's international non-proprietary name is ponatinib. It's a tyrosine kinase inhibitor that targets BCR-ABL expressed in forms of leukemia. BCR-ABL stands for breakpoint cluster region-Abelson, a gene associated with chronic myeloid leukemia.
Iclusig is approved for the treatment of chronic myeloid leukemia as well as Philadelphia chromosome-positive acute lymphoblastic leukemia for patients who can't be treated with other tyrosine kinase inhibitors.
The drug is already approved in the United States, the European Union, Canada, Australia, and more.
Iclusig competes with Bristol-Myers Squibb's (BMY) Sprycel, Pfizer's (PFE) Bosulif, and Novartis's (NVS) Tasigna and Gleevec.
To avoid the risk of investing in individual companies, you can consider the iShares Nasdaq Biotech ETF (IBB), which holds ~3.2% of its total assets in Incyte.