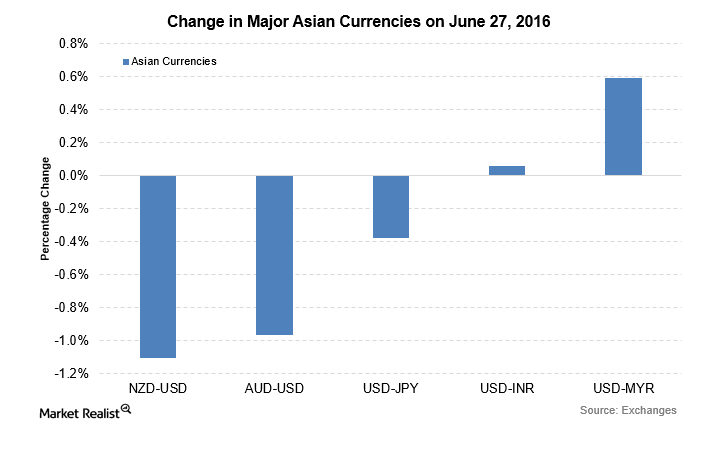 Currencies Extend Friday's Brexit Losses
China announces the sharpest devaluation of the yuan since last August
Major Asian currencies extended their weak run against the US dollar on June 27, 2016. The exception was the safe-haven Japanese yen. The US dollar and Japanese yen currency pair, which is inversely related to the Japanese yen, fell by 0.38%. The strength of the yen continued to have a negative impact on Japan-related ETFs, with the WisdomTree Japan Hedged Equity ETF (DXJ) and the iShares MSCI Japan (EWJ) falling by 2.3% and 0.53%, respectively.
Article continues below advertisement
The PBoC (People's Bank of China) announced the sharpest devaluation of its currency since August 2015. The devaluation was a result of the appreciation in the US dollar. The US dollar and Chinese yuan currency pair was trading at 6.7 on June 27. For details on the August 2015 devaluation, read How Has Devaluation of the Yuan Impacted Global Currencies?
The Australian dollar and the New Zealand dollar fell by 0.97% and 1.1%, respectively.
Pound continues to lead the fall as Brexit ripples continue
European currencies, which form a major part of the US Dollar Index, continued their falling trend on June 27 as the ripples of the UK referendum (EWU) continued to have an effect on the Market. The pound and US dollar currency pair led the fall in European currencies, falling by 1.6%.
The euro was also on a negative trajectory, but the losses were less pronounced than on Friday. The euro fell 0.24% on the day. The ProShares UltraShort Euro ETF (EUO) rose 1.3%.
US dollar posts gains against most major currencies
The US Dollar Index, which measures the strength of the dollar against a basket of major currencies, rose by 0.49% to close at 96.5 on June 27, 2016. The PowerShares DB US Dollar Index Bullish Fund (UUP) was also trading positively, rising by 0.86%. The US dollar posted gains against all major currencies except the Japanese yen, as risk aversion prevailed in the markets.
In the next part of this series, we'll take a look at major Asian indexes.