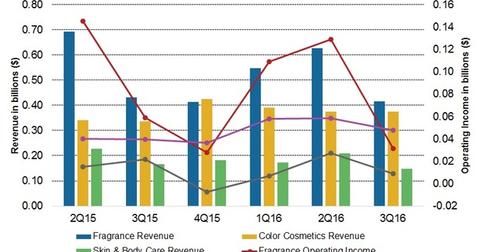 Coty Faces Fragrance Market Trend Deterioration in Fiscal 3Q16
By Penny Morgan

Updated
Coty's segment-by-segment revenue in fiscal 3Q16
Coty (COTY) operates under three reportable segments:
Fragrance
Color Cosmetics
Skin & Body Care
The Fragrance segment's net revenue fell by a modest 1% year-over-year and 3.7% to $0.4 billion in reported terms in fiscal 3Q16.
The Color Cosmetics segment's net revenue rose 1% year-over-year and 11.2% to $0.4 billion in reported terms, driven by strong growth in the Rimmel brand. Lower Sally Hansen revenue reflected the fall in the US retail nail market.
For Coty's Skin & Body Care segment, net revenue fell 5% year-over-year and 11.6% to $0.1 billion in reported terms. This was primarily driven by continued strength in the Adidas brand, and it was offset by a fall in the philosophy and Playboy brands.
Article continues below advertisement
Adjusted operating income
Adjusted operating income for Coty's Color Cosmetics segment rose 21.6% to $0.05 billion. For the Fragrance and Skin & Body Care segments, adjusted operating income rose 46.8% and 58.3%, respectively in fiscal 3Q16.
Increased promotion and discounted pricing
The continued deterioration of fragrance market trends, particularly in Europe, has led Coty to focus on an increased level of promotional and discounted pricing activity to keep up with companies such as Procter & Gamble (PG) and Unilever (UL).
As a result, last quarter, Coty signed a new fragrance license agreement with Tiffany & Co., an international jeweler. This agreement should further strengthen the company's position in fragrances.
Additionally, regarding P&G's beauty business merger, Coty confirmed the transfer of ten P&G fragrance licenses, including global powerhouses such as Hugo Boss, Gucci, and Lacoste. Peer Estée Lauder's (EL) fragrances Michael Kors (KORS) and Coach (COH) are also licensed fragrances.
In the next part of this series, we'll focus on Coty's geographic presence in detail. Coty makes up 0.1% of the WisdomTree SmallCap Dividend ETF (DES).[1. Updated on June 13, 2016]