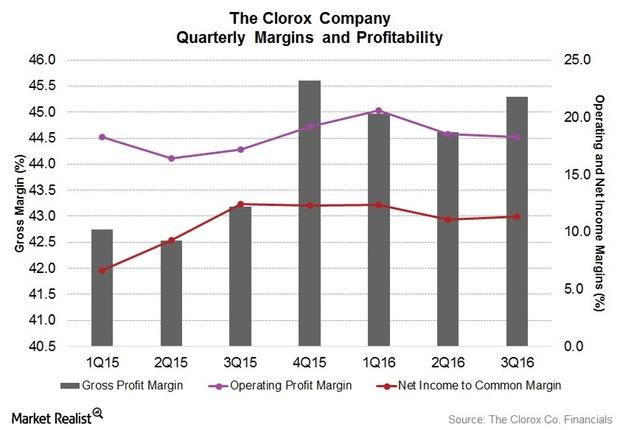 Cost Savings and Price Increase Helped Clorox's Margin Growth
By Penny Morgan

Jun. 6 2016, Updated 11:11 a.m. ET
Clorox's fiscal 3Q16 gross margin
Clorox (CLX) reported a slight improvement in its gross margin in fiscal 3Q16. The company's gross profit margin increased by 210 basis points to 45.3% from 43.2% in fiscal 3Q16. The increase was driven by the benefits of favorable commodity costs, cost savings, and price increases. This was partially offset by 150 basis points of higher manufacturing and logistics costs.
Article continues below advertisement
Operating margin versus peers
Clorox's operating margin also increased to 18.3% in fiscal 3Q16 compared to 17.2% in fiscal 3Q15. The increase was primarily due to strong sales growth across the Cleaning, Household, and Lifestyle segment, driven by Glad, Burt's Bees, and Splash-Less bleach.
Similarly, Colgate-Palmolive's (CL) operating margin increased to 23.1% in 1Q16 compared to 21.1% in 1Q15. This was due to an increase in operating income. The core operating margin improved by 300 basis points for Procter & Gamble (PG) in fiscal 3Q16. 
Kimberly-Clark's (KMB) adjusted operating margin was also up by 90 basis points to 18.3% in 1Q16. This was primarily due to the company's FORCE cost savings program and higher margins for all three segments.
Cash flow generation
Clorox's (CLX) fiscal year-to-date cash flow generation came in at $0.3 billion, compared to $0.4 billion in the same period in 2015. This was due to higher employee incentives as well as higher tax payments. P&G's fiscal 3Q16 cash flow productivity came in at 101%, the highest among all cap companies, including Unilever (UL), Colgate-Palmolive, and Church & Dwight (CHD).
In fiscal 3Q16, Clorox's debt-to-EBITDA (earnings before interest, tax, depreciation, and amortization) ratio of 1.8x was below the targeted range of 2x to 2.5x. This occurred despite weaker foreign currencies, inflation in international markets, and consumer demand building programs. The company expects its EBIT margin to expand by 50 basis points according to comments by the company's CFO, Stephen M. Robb. In addition, the Renew Life acquisition should also help Clorox to improve its debt-to-EBITDA ratio.
CLX makes 1.4% of the PowerShares Dynamic Large Cap Growth Portfolio ETF (PWB).[1. Updated on May 31, 2016]