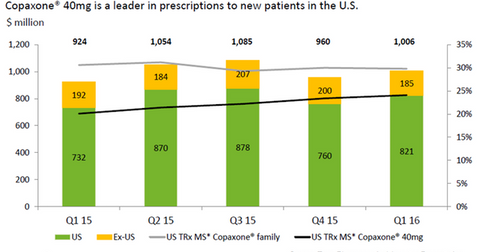 Why Copaxone Shouldn't See Much Revenue Erosion due to Generics
By Margaret Patrick

Updated
Revenue erosion
Despite increasing competition from generic versions, Wall Street analysts expect that Teva's (TEVA) Copaxone will earn about $3.8 billion in 2016, which is a year-over-year (or YoY) revenue decline of only 5.8%. Teva has also projected that generic competition will result in earnings erosion of around 35% for Copaxone. This estimate is significantly lower than what is generally projected for the majority of drugs facing generic competition, which is around 80%.
Article continues below advertisement
The above diagram shows that in 1Q16, the Copaxone franchise accounted for more than 30% of the total multiple sclerosis (or MS) prescriptions in the US. Strong demand from patients coupled with a net price hike of about 7.9% for both strengths of Copaxone (20mg/ml and 40mg/ml) have been instrumental in boosting the drug's revenues in 1Q16.
Facing generic competition
Copaxone's strong performance is expected to continue throughout 2016 despite competition from drugs such as Biogen's (BIIB) Tecfidera and Novartis (NVS) subsidiary Sandoz's and Momenta Pharmaceuticals' Glatopa.
Sandoz launched the first generic version of Copaxone, Glatopa, in the US market on June 18, 2015. However, the company is focused on increasing its product profitability rather than increasing market share by offering deep price discounts.
Additionally, there is a limited amount of clinical data available for generic versions, which has resulted in physicians becoming reluctant to switch their MS patients from Copaxone therapy to other drugs.
Teva also boasts of a strong patient services center, which has been a major differentiating factor for Copaxone. Further, 80% of the total patients using Copaxone have switched to the 40mg/ml version of the drug. The version is more effective and requires the patients to receive about 200 fewer injections per year as compared to Copaxone 20mg/ml.
Though Mylan (MYL) has challenged Copaxone's patent exclusivity, Teva expects minimal impact on the 40mg/ml Copaxone sales. These factors have enabled Teva to safeguard its Copaxone market share. To know more about the impact of generic competition on the Copaxone franchise, please refer to How Could Generic Competition Affect Copaxone's Revenues in 2016?
If Teva's Copaxone franchise continues to withstand generic competition, it may boost the company's share prices as well as those of PPH. Teva makes up about 4.2% of PPH's total portfolio holdings.
In the next article, we'll analyze the performance of Teva's generic business compared to other generic players.