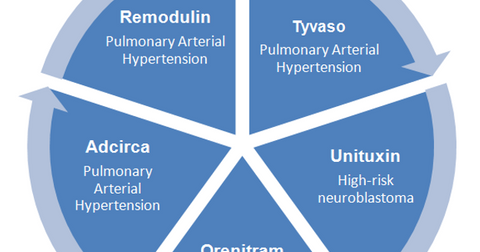 Introducing United Therapeutics: Your Insider Overview
By Margaret Patrick

Updated
Overview
Headquartered in Silver Spring, Maryland, United Therapeutics (UTHR) is a leading biotechnology company in the US that offers multiple drugs, including prostacyclin analogues, phosphodiesterase type 5 (or PDE-5) inhibitors, and monoclonal antibodies, targeted at pulmonary arterial hypertension (or PAH) and cancer. United Therapeutics currently has a market capitalization of about $4.8 billion.
The above diagram shows the key drugs marketed by United Therapeutics (UTHR), which involve Adcirca, Tyvaso, Remodulin, Unituxin, and Orenitram. The company is also involved in research and development of technologies related to organ transplant
Article continues below advertisement
In 2015, United Therapeutics managed to earn revenues and net income of about $1.5 billion and $0.65 billion, respectively. By comparison, Alexion Pharmaceuticals (ALXN), Vertex Pharmaceuticals (VRTX), and Regeneron (REGN) reported revenues of about $2.6 billion, $4.2 billion, and $4.1 billion, respectively.
PAH market
United Therapeutics is a leading player in the PAH segment. According to United Therapeutics' 10K filings, "PAH is a life-threatening disease that affects the blood vessels in the lungs and is characterized by increased pressure in the pulmonary arteries, which are the blood vessels leading from the heart to the lungs. The elevated pressure in the pulmonary arteries strains the right side of the heart as it pumps blood to the lungs. This eventually leads to right heart failure and, ultimately, death. PAH is characterized by structural changes in blood vessel walls, aggregation of platelets and alteration of smooth muscle cell function."
While the company believes that 500,000 people in the world are afflicted by PAH, not many patients have been treated till date. Thus, United Therapeutics could further penetrate the PAH market and boost its profit margins. This would also boost share prices of the iShares Core S&P Mid-Cap ETF (IJH). United Therapeutics makes up about 0.33% of IJH's total portfolio holdings.
In the next part, we'll analyze the company's leading PAH drug, Remodulin, in greater detail.