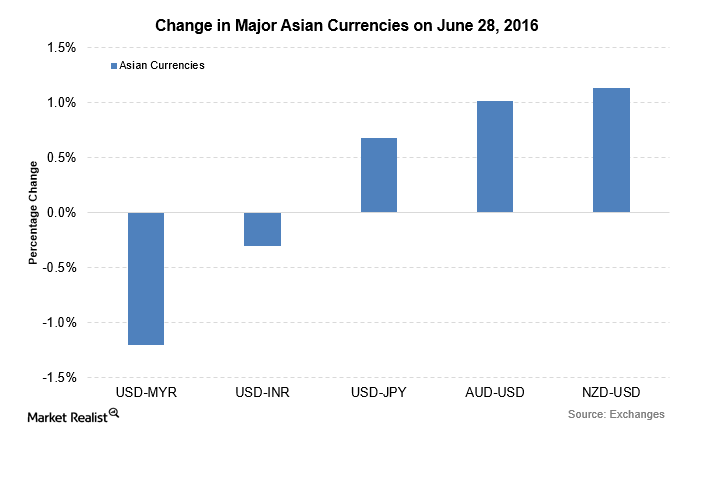 Commodity Currencies Rise against the US Dollar
US Dollar Index fell
The US Dollar Index measures the strength of the dollar against a basket of major currencies. It fell by 0.30% on June 28. This fall brought the upward trend to an end. The upward trend started on June 24. The US dollar had risen from 93.5 on June 23 to a high of 96.70 on June 27. The US Dollar Index ended the day at 96.25. The PowerShares DB US Dollar Index Bullish Fund (UUP) was also trading negatively—it fell by 0.49%. Commodity currencies posted the largest gains against the US dollar—the Brazilian real, Russian ruble, and Australian dollar led the way.
Article continues below advertisement
Brazilian real appreciates by over 2.5%
European currencies form a major part of the US Dollar Index. They bucked the downward trend on June 28. The Russian ruble and Brazilian real were the major gainers. They appreciated by 2.1% and 2.5%, respectively. Positive sentiments were also seen in related ETFs. The iShares MSCI Brazil Capped ETF (EWZ) and the VanEck Vectors Russia ETF (RSX) rose by 4.4% and 3.3%, respectively.
The euro was trading on a flat note with a slight rise of 0.44% as investors slowly digest the result of the United Kingdom's referendum. The ProShares UltraShort Euro ETF (EUO) fell 1.1%.
Oceania currencies are leading the way
Major Asian currencies were trading stronger against the US dollar on June 28, 2016. The exception was the safe-haven Japanese yen. It lost favor among investors as markets started to stabilize. The US dollar and Japanese yen currency pair, which is inversely related to the Japanese yen, rose by 0.68%. The weakening yen had a positive impact on Japan-related ETFs. The WisdomTree Japan Hedged Equity ETF (DXJ) rose by 1.7%.
Commodity-related currencies such as the Australian dollar (EWA) and New Zealand dollar were among the major gainers. They rose by 1.0% and 1.1%, respectively.