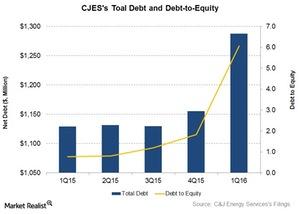 Why C&J Energy Services Had a Brush with Bankruptcy
By Alex Chamberlin

Updated
CJES avoids covenant violation
C&J Energy Services (CJES) provides completion and production services for upstream energy producers. On June 1, CJES entered into a forbearance agreement with the lenders under its credit facilities. This forbearance agreement relates to:
debt covenant violation
interest payment
certain fees under the credit facilities
Under the agreement, the lenders won't exercise default remedies or accelerate indebtedness in the instance of violation or default in any of the above criteria. Earlier, CJES obtained a temporary waiver agreement from March 31, 2016, through May 31, 2016, with regard to the violation of the quarterly EBITDA (or earnings before interest, tax, depreciation, and amortization) covenant under credits obtained from the bank. On June 3, the company also received notice from the New York Stock Exchange (or NYSE) regarding non-compliance of listing requirements after its price fell below $1.00.
Article continues below advertisement
What led to CJES's debt covenant violation?
CJES's revenues and profits had already been under mounting pressure in the past few quarters. CJES's revenues fell 33% in 1Q16 over a year ago. The company incurred a net loss of $872.5 million during 2015 and $428.4 million in 1Q16. In comparison, Baker Hughes (BHI) recorded a $981 million net loss in fiscal 1Q16 while Dril-Quip's (DRQ) net income for fiscal 1Q16 was $36.7 million. BHI makes up 0.2% of the iShares Russell 1000 Value ETF (IWD). For investors looking for exposure to the energy sector, energy makes up 13.5% of IWD.
Low utilization and commodity price levels negatively affected the company's earnings. As a result, CJES wasn't in compliance with the "Minimum Cumulative Consolidated EBITDA Covenant" at the end of 1Q16. The covenant refers to consolidated EBITDA levels plus a cushion amount. This was considered an event of default under the terms of its credit agreement. However, the company obtained a temporary, limited waiver agreement from certain lenders as discussed earlier. A debt covenant violation typically leads to loan default, which can ultimately lead to bankruptcy.
However, investors should note that if CJES's ongoing debt restructuring doesn't resolve debt covenant violation and its revenues and earnings don't show improvement, lenders may terminate revolving commitments under the revolver and the five-year term loans.
Next, we'll discuss whether Weatherford International, another OFS player, runs any risk of bankruptcy.