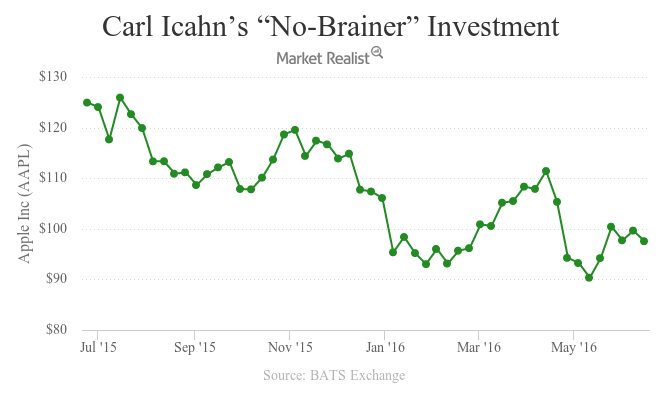 Is China the Real Reason behind Billionaire Carl Icahn Exiting Apple?
By Surbhi Jain

Nov. 20 2020, Updated 4:35 p.m. ET
Icahn exited from his "no-brainer" investment
For the record, Carl Icahn has been a huge fan of Apple. He has often been heard calling his investment in Apple (AAPL) a "no-brainer." For Icahn, Apple is a great company with great management. Icahn first disclosed his stake in the company three years ago in 3Q13.
[marketrealist-chart id=1398587]
However, Icahn has been offloading his stake in the company. In 4Q15, Icahn brought Apple's share in his portfolio down from 20.9% to 16.4%. Icahn started 2016 with about 16.4% of his portfolio invested in Apple.
Article continues below advertisement
On April 28, 2016, Icahn stated, "We no longer have a position in Apple," during an interview with CNBC. His 1Q16 filing with the SEC (Securities and Exchange Commission) reveals Apple (AAPL) as Icahn's top sell for the quarter, with Icahn selling off his entire stake (45.8 million shares ) in the company.
Is Icahn's concern over China his reason for exiting Apple?
During his Squawk Box interview on CNBC, billionaire investor Carl Icahn stated, "Look at China..there is a problem there…it's a risk…if China really blows up…you're gonna have a major problem in the markets."
Icahn has widely expressed his concern over Apple's relationship with China (FXI) (YINN) as the key reason for his decision to sell off his Apple holdings. Icahn perceives risk in holding the stock any longer.
Icahn has been advising Apple to buy back its shares. With the Market down in general, and Icahn's stake in Apple holding substantial value, what better buyer could Icahn get than the company itself to buy the stock back? Buybacks also help to drive up share value.
He has also been quite vocal in stating his estimation that Apple stock is undervalued. With the kind of influence that Icahn has over the Market, a statement of perceived undervaluation is also instrumental in driving up stock prices. Reports indicate that Icahn made about $2 billion from his Apple trade.
So, what does this investor, who recently got richer by $2 billion courtesy Apple (AAPL), have to say about the US (VFINX) (SPXL) presidential race and Donald Trump?