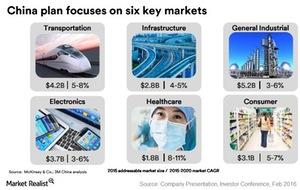 Why the China Growth Story Isn't Over Yet for 3M Company
By Shannon Black

Updated
Asia-Pacific region
The Asia-Pacific region is 3M Company's (MMM) second-largest market, and it's also the region with the best operating margins on offer. In fact, from 2010 to 2013, the region had the highest operating income among all regions, contributing almost 41% to 3M's total operating income at its peak.
Sales in the region fell from $9.1 billion in 2011 (30.7% of total sales) to $9 billion in 2015 (29.8% of total sales) as major emerging market China's economy slowed considerably. 3M's operating margin, which fell from 27.7% in 2011 to 26.4% in 2014, regained lost ground and rose to 28.5% in 2015.
Article continues below advertisement
China's profitability
Overall sales falls in China have been majorly due to a slump in the electronics business. Smartphone sales have been falling in the country since 2Q15. 3M makes the display materials and touch sensor components that go into smartphones.
3M China saw organic volume growth of 2.3% in 2015, and it expects these numbers to linger in the 4%–7% range between 2016 and 2020. The real story for 3M in China has been the company's operational improvements, due to which its operating income rose by 12.7% in 2015. This also led to a rise in its overall operating margin in the Asia-Pacific region in 2015.
Where is 3M China sourcing its growth from?
China is the world's largest car producer and has a growing demand for aircraft and high speed railways. 3M's transportation portfolio is expected to benefit from these trends, with the company expecting growth of 8%–11% annually through 2020.
In 2015, 3M's Transportation business racked up $340 million in sales in China—almost the same as 3M's total company sales in India.
Two decades of rapid economic growth have resulted in traffic congestions in major cities and rampant environmental degradation causing water and air pollution. 3M provides equipment for traffic management and protection from contaminated water and air. It expects to capitalize on these trends in the next five years.
Key ETFs
Investors interested in trading in the industrials space can look into the Vanguard Industrials ETF (VIS) and the Industrial Select Sector SPDR ETF (XLI).
Major holdings in VIS include General Electric (GE) with a weight of 12.2%, 3M Company with a weight of 4.3%, and United Technologies (UTX) with a weight of 3.7%.