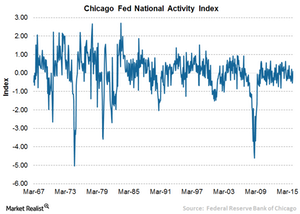 Why the CFNAI Has Historically Led Overall Growth
By Russ Koesterich, CFA

Nov. 20 2020, Updated 5:02 p.m. ET
Leading indicators do in fact lead
To state the obvious, economies are complex and vulnerable to exogenous shocks. As a result, there are no truly reliable measures of future growth. That said, certain economic statistics have historically led overall growth.
As I've discussed in many previous blogs, my preferred measure is the Chicago Fed National Activity Index (CFNAI), which has historically correlated with economic activity one to two quarters ahead. In other words, it won't provide much information on what the economy will do a year hence, but it has historically done a decent job of signaling an imminent recession. Today, the CFNAI is right where it's been for most of the past seven years, hovering close to 0. This suggests that growth is likely to remain positive, albeit tepid.
Given the recent weakness in the dollar, the modest acceleration in hourly wages and stable leading indicators, for now my view is that the U.S. economy will continue to expand in the coming quarters. Just don't expect great things…or consistency.
Article continues below advertisement
Market Realist – CFNAI measures overall economic activity
The CFNAI (Chicago Fed National Activity Index), which is a weighted average of 85 economic indicators, measures overall monthly economic activity in the United States. The CFNAI is a forward-looking metric that helps to track economic growth to some extent. There's a high correlation between the index's various subcomponents and related economic activities.
According to the Chicago Fed, "A zero value for the index indicates that the national economy is expanding at its historical trend rate of growth; negative values indicate below-average growth; and positive values indicate above-average growth."
In the last two years, the CFNAI has reported a lot of fluctuations, reaching a high of 0.64 in November 2014 and a low of -0.55 in March 2016. The index hovered at around 0.10 in April, indicating that the gradual economic recovery is on track—though growth is likely to stay uneven.
Apart from the CFNAI, other broader economic indicators point to a steady economic recovery. After the weak US (IVV)(IWF) jobs data, the dollar index sank 1.6% on the hope of a delay in the rate hike. A weak dollar bodes well for the US manufacturing (IYT)(IYJ) growth. Plus, hourly wages rose 0.2% in May to $25.59, the unemployment rate is back to pre-recession levels of 4.7%, and the financial sector (IYF) is more stable.