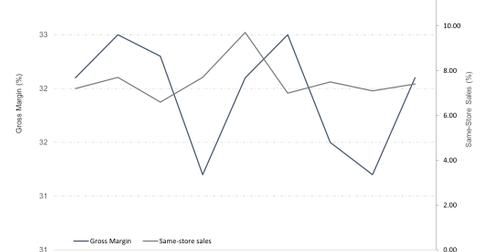 Casey's Grocery Business Beats Same-Store Goals in Fiscal 2016
By Sonya Bells

Updated
Grocery business posts healthy comparable sales and margins
Casey's General Stores' (CASY) grocery and merchandise business, its second-largest revenue-generating segment, recorded a 9.4% rise in total sales in fiscal 4Q16.
Higher sales in this segment were the result of a 7.4% rise in same-store sales during the quarter. The average margin for the quarter stood at 32.1% for the three-month period ended April 30, 2016.
Article continues below advertisement
Same-store grocery sales remain strong
In fiscal 2016, same-store sales for Casey's grocery and merchandise segment rose by 7.1%, beating the company's own target of a 6.2% rise. "For the year, cigarette sales continued to lead the category as customers traded up to premium brands in response to lower retail fuel prices," said Terry Handley, president and CEO of Casey's General Stores.
The average margin for the grocery and merchandise category stood at 31.9% in fiscal 2016, slightly missing the company's target of 32.1%. "The margin fell slightly below goal primarily due to the increased contribution of cigarettes to the category, however, gross profit dollars rose 9.3% to $629.2 million," said Handley.
The company has similar goals for its grocery and merchandise business in fiscal 2017. It's looking for a 6.2% rise in same-store grocery and other merchandise sales, with an average margin of 32%.
What differentiates Casey's from its peers?
Casey's business model focuses on opening stores in smaller towns, where the population is lower and the competition is minimal. About 57% of the company's stores are based in locations that have populations of fewer than 5,000 people, and 25% of its stores are in areas with populations of 5,000–20,000 people.
By opening its stores in less-populated areas, Casey's is to able to avoid competition from bigger stores such as 7-Eleven, Quik Trip, Kwik Trip, CST Brands (CST), and Murphy USA (MUSA), as well as from supermarkets such as Kroger (KR).
Casey's and its peers CST Brands, Murphy USA, and Kroger are part of the SPDR S&P Retail ETF (XRT). Together, they make up 4.4% of the index's weight.