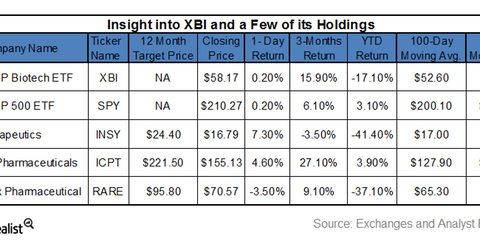 Can XBI Continue the Upward Trend It Achieved in May?
By Peter Neil

Updated
Market outlook
On June 1, 2016, the Markets remained flat. The Dow Jones Industrial Average stayed stagnant, while the SPDR S&P 500 ETF (SPY) rose 0.2%. Most of the biotech (biotechnology) and healthcare stocks ended in green.
The SPDR S&P Biotech ETF (XBI) reflected the performance of SPY and rose 0.2%, continuing its upward trend. XBI had a good month in May and rose ~7.6%. It began June on a positive note. It might turn out to be another good month for XBI.
XBI closed at $58.17 and was trading above the 20-day moving average price of $53.20. The ETF has fallen 17.1% on a year-to-date basis. Among the 87 stocks that XBI holds, 54 rose and 33 fell from their previous closings.
Article continues below advertisement
XBI's outperformers and underperformers
On June 1, 2016, the top performers in XBI were Insys Therapeutics (INSY) and Intercept Pharmaceuticals (ICPT), which rose 7.3% and 4.6%, respectively. Insys stock rose on higher trading volumes with ~882,000 shares traded. This compares to its three-month average trading volume of ~712,000 shares per day.
Insys stock has fallen 41.4% on a year-to-date basis. It's trading at a 2016 forward PE (price-to-earnings) multiple of ~55.1x. About 61% of Insys's total outstanding shares are in a short position and recovering from short. This will trigger a rise in stock prices. Insys has a weight of ~0.8% in XBI's portfolio.
On the other end, Ultragenyx Pharmaceutical (RARE) was the most underperforming stock in XBI on June 1, 2016. The stock fell 3.5% on profit booking after it had gained 6.6% in its previous trading session.
In a press release, Ultragenyx Pharmaceutical announced that it will present at the Jefferies 2016 Healthcare Conference on Tuesday, June 7, 2016. It will also present at the Goldman Sachs 37th Annual Global Healthcare Conference on Wednesday, June 8, 2016. Ultragenyx closed at $70.57 and was trading above its 20-day moving average price of $64. The stock has fallen 37.1% on a year-to-date basis. Ultragenyx has a weight of ~2.1% in XBI's portfolio.
In the next part of our series, we'll take a look at BioMarin and why its stock fell 2.5%.