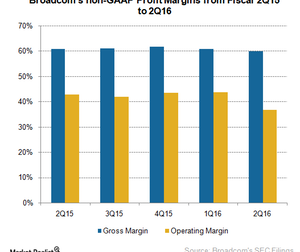 Broadcom Maintains Profit Margin after Merger
By Puja Tayal

Updated
Huge gap in Broadcom's GAAP and non-GAAP earnings
So far, we saw that Broadcom's (AVGO) wired and wireless segments are its key growth drivers while its enterprise storage and industrial segments are its growth deterrents. We also saw the revenue synergies realized by the combined entity. Let's now understand how efficiently Avago has integrated Broadcom by looking at the combined entity's expenses and profits.
There's a huge gap in the GAAP (generally accepted accounting principles) and non-GAAP earnings due to the acquisition-related charges incurred by Avago.
Article continues below advertisement
Non-GAAP fiscal 2Q16 gross margin
In fiscal 2Q16, Broadcom's non-GAAP gross margin stood at 60% compared to 61% in fiscal 2Q15. The company managed to retain its gross margin near 60%, as the merger resulted in a favorable product mix and a better-than-expected result from the wired segment.
Moreover, the company started pre-building filters for an expected increase in demand from a key wireless customer, which is rumored to be Apple (AAPL). This increased factory utilization reduces the cost of manufacturing.
Operating margin
The company's operating margin stood at 37% in fiscal 2Q16 as compared to 43% in fiscal 2Q15. Its operating expenses rose to 23% of the revenue in fiscal 2Q16 as compared to 18% in fiscal 2Q15. This difference was reflected in the operating margin.
However, the operating expense was lower than expected as the cost synergies from the merger were realized faster than expected. The company expects to realize up to $750 million in cost synergies in 18 months starting February 2016.
Broadcom's non-GAAP EPS (earnings per share) rose 18.7% YoY (year-over-year) to $2.53, beating the consensus estimate of $2.38.
Interest expense
The company's non-GAAP interest expense rose threefold from $41 million in fiscal 1Q16 to $150 million in fiscal 2Q16. The increase was due to the $9 billion leverage Avago took to fund the $37 billion Broadcom merger. Even Western Digital (WDC) raised a debt of approximately $10 billion to fund the $17 billion SanDisk (SNDK) merger.
Next, we'll see how Broadcom plans to manage its debt and whether it's financially stable to meet its short-term capital needs. The iShares Core S&P 500 ETF (IVV) replicates the S&P 500 Index with holdings in the top 500 stocks across various sectors including technology. It has 8.7% of its holdings in semiconductor stocks with 0.07% in WDC, 0.33% in AVGO, and 3.0% in AAPL.