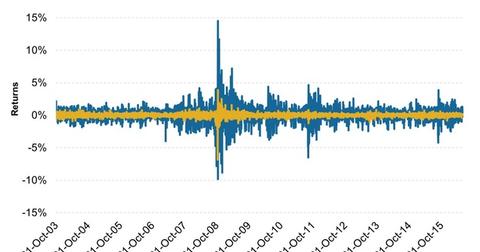 Could the Grey Swan Event Elude Stocks and Bonds?
By David Ashworth

Updated
Good performance behind us
Analyzing the superior performance of stocks and bonds over the past 40 years, Bill Gross, in his investment outlook for June 2016, called the run a "grey swan" if not a black swan event. We explored this aspect in detail in the previous part.
To support his point, he referenced Ben Inker's 1Q16 letter to his clients. In GMO's quarterly letter, Inker expressed his thoughts on returns on bonds.
Article continues below advertisement
Inker's explanation
If a bond is yielding 1.5% and will mature in seven years, investors can pretty much be assured of a 1.5% return in that timeframe if they simply hold on to the bond until its maturity. However, there are instruments and indices out there that pursue a constant maturity strategy. Although they're invested across a wide gamut of bonds (OPGVX) (UGSDX), the bonds selected are in line with the fund's constant maturity strategy.
Inker used the example of the Barclays U.S. Aggregate Bond Index. It's tracked by the iShares Core U.S. Aggregate Bond ETF (AGG) and the Vanguard Total Bond Market ETF (BND). He said that the index has a yield of 2.2%. However, the range of returns isn't very appealing. If the yield fell to zero, the return could be 2.9% per year. On the other hand, if the yield doubled, the return would fall to 1.5% per year for the next seven years. This range of 1.5%–2.9% isn't even close to the 7.7% returns that the index provided since its inception.
Bill Gross on stock returns
Bill Gross said that unlike bonds, equities' (SPLV) (RSP) case is more complicated because several other elements come into play. However, since both stocks and bonds are part of the same financial system, the correlation between their returns is significant. Given the range of returns on bonds as provided above, a 3% equity premium means that equities (IWD) can be expected to return 4.5%–4.9% over the period. This isn't an impressive performance.
In the next part, we'll discuss why Bill Gross thinks that "carry" is compressed today.