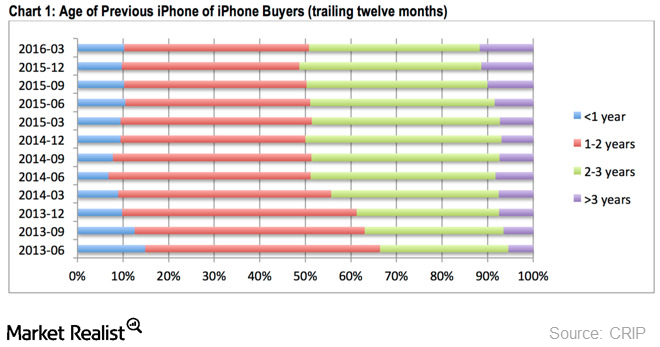 What Does Apple's Buyer Cycle Indicate?
By Adam Rogers

Jun. 20 2016, Updated 1:58 p.m. ET
Data suggest customers are using iPhone for three months longer
One of the key drivers of Apple's (AAPL) iPhone's quarterly sales is the amount time it takes for iPhone users to upgrade their phones. According to a research report by the US-based (SPY) group Consumer Intelligence Research Partners (or CIRP), this buyer cycle has increased in the last two years.
The report, which was published earlier this month, stated that 66% of old iPhones were either one year old or between one and two years old in the year ended June 2013.
In comparison, 51% of old iPhones were either one year old or between one and two years old in the year ended March 2016.
The report further suggested that the "oldest retiring iPhones" (more than three years old) rose from 5% of all old iPhones in the year ended June 2013 to 12% in the year ended June 2016.
"We can translate these retiring iPhone age distributions into an estimate of the change in age of previous iPhones," said Mike Levin of CIRP. "Over the past eleven quarters, in some quarters the average age of a previous iPhone increased by as much as four weeks."
Article continues below advertisement
Why is the buyer cycle increasing for Apple?
According to CIRP, there are two key drivers for the rise in the buyer cycle for the iPhone. One is the slowdown in the rate of change for iPhone features or technical improvements in the phone.
According to the research report, mobile financing plans also encourage users to hold on to their current phones. Earlier mobile carriers would offer subsidies and discounts on the purchase of new phones.
Apple has been in focus for its iPhone production, and its decisions have been affecting its semiconductor suppliers such as Skyworks Solutions (SWKS), Cirrus Logic (CRUS), and Analog Devices (ADI).
According to AppleInsider, Apple scaled back the production of its iPhone 6s and 6s Plus by 30% from January to June 2016.