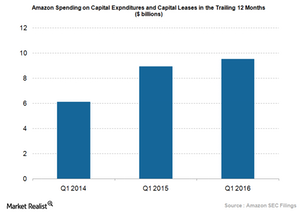 Why Amazon AWS Still Has an Edge over Competitors
By Puneet Sikka

Jun. 7 2016, Updated 8:05 a.m. ET
Amazon continues to expand AWS to new geographies
In the previous part of the series, we discussed that although Amazon (AMZN) is the leader in the cloud services market, it's facing growing competition from Microsoft (MSFT) and Google (GOOG). The combination of Microsoft, IBM (IBM), and Google managed to grow at a faster rate than Amazon in the last quarter. However, Amazon still has an edge over its competitors mainly because of its growing scale all while catering to customer needs through feature enhancements. AWS has expanded its footprint to 12 geographic regions with 33 availability zones. Amazon plans to have another five to 11 availability zones over the next year.
Article continues below advertisement
Amazon added 722 new features to AWS last year
The aggressive expansion plans for Amazon in the cloud business means that its capital expenditures are also growing at a rapid rate. As the chart above shows, Amazon's spending on capital expenditures and capital leases has grown from $6.1 billion in 1Q14 to $9.5 billion in 1Q16 in the trailing 12 months. Although capex also includes constructing fulfillment centers used for storing goods for Amazon's e-commerce business, the majority of the capex is used to build new data centers and maintain the existing ones for its cloud business.
Amazon has also been aggressively enhancing features for its AWS solution. Amazon added 722 new features to AWS last year while launching its relational database named Amazon Aurora in July 2015. Amazon Aurora became the fifth database engine, after Oracle (ORCL), Microsoft SQL Server, PostgreSQL, and MySQL, to be compatible with Amazon Relational Database Service (or RDS). Amazon claims that Aurora will enhance the performance and availability of RDS. The company claims that Aurora is its fastest-growing service ever. Amazon also launched Amazon QuickSight for AWS in October 2015. QuickSight is a big-data analytics and visualization tool.