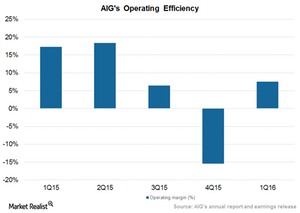 AIG Expects Benefits of Restructuring Spending in Coming Quarters
By Robert Karr

Updated
Restructuring initiatives
American International Group (AIG) has announced that it will spend $500 million on restructuring initiatives for organizational simplification, operational efficiency, and business rationalization. The company's 4Q15 results included $188 million in pre-tax restructuring, which is primarily related to previously announced actions.
The initiatives are expected to generate annualized savings of approximately $400 million–$500 million when fully implemented. Of the total savings, $300 million will be in employee severance and one-time termination benefits, concentrated mainly on senior levels of management.
AIG is expected to save another $100 million in costs associated with the modernization of its information technology platforms. The balance of the savings will be related to costs associated with the consolidation of legal entities and exiting the businesses with lower returns. Insurance players (XLF) have seen their investment incomes decline in the low-interest rate environment.
Inorganic actions
AIG announced the sale of AIG Advisor Group in January 2016. It's expected to close in 2Q16. The company has announced an IPO (initial public offering) of up to 19.9% of United Guaranty, subject to regulatory approvals, as the first step toward a full separation. It also announced an agreement to sell operations in four Central American countries during the fourth quarter.
In 1Q16, AIG entered into a two-year reinsurance arrangement with the Swiss Re Group. Under that agreement, a proportional share of its new and renewal US Casualty portfolio is being ceded. The arrangement will reduce the impact of the US Casualty loss ratio on the company's overall loss ratio, in accordance with its strategic plan.
AIG also grew its book value per share by ~13% during the past year. Book value growth per share in the past year was ~5% for MetLife (MET) and Allstate (ALL). It was ~8% for Chubb (CB).
Article continues below advertisement